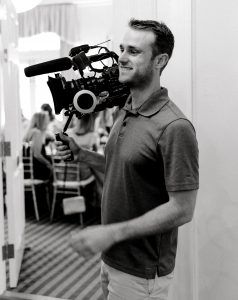 Corey Frost, a 2010 NSCM film alumnus, was focused on scripted filmmaking until his senior year at UCF, when professor Lisa Mills pushed him to pursue personal documentaries. The genre changed his life.
"I never knew why, but I was drawn to filmmaking," said Frost, who now resides in North Carolina. "My grandparents used to have old VHS tapes of NFL Films documentaries and I'd watch them over and over again as a kid."
Frost has now been nominated for a Sports Emmy Award for Outstanding Edited Sport Special or Series for his editing on "UFC 25 Years in Short."
The documentary series follows 25 years of Ultimate Fighting Championship, a martial arts promotion company based in Las Vegas, Nevada. "UFC 25 Years in Short" is one of five specials or series nominated in the Outstanding Editing category.
The award, given by the National Academy of Television Arts and Sciences, was presented May 20 at Lincoln Center in New York City.
"I've always dreamed of doing this kind of work," Frost stated in a previously published article on TC Palm. "It was something that was in my blood; having a camera in my hand was natural."
At UCF, he learned a plethora of helpful skills that mixed well with his passion, like how to be more well-rounded, manage his time better and tell stories more effectively.
"In terms of filmmaking, I'd tell anyone who is interested in this job to learn storytelling above all else," Frost said. "Technology comes and goes, trends pass, but since the beginning of time, storytelling has been a constant. I cannot tell you how many people I come across in my field who struggle with the simplest form of storytelling. That's something I way underestimated post college. UCF Film focused primarily on it, and I cannot be more thankful."
Frost initially started as an intern at the Emmy Award winning production company NFL Films, and he has since worked his way up through multiple ventures and job opportunities.
Presently, Frost is working in post-production as a story producer and editor on a documentary series about Shaq, considered to be one of the greatest players in National Basketball Association history, as well as a short film series about the Montecito mudslide in California.
"I've been extremely lucky to get the chance to be a part of some really cool projects coming up," Frost stated. "I'm also currently directing an independent true crime documentary about several criminal cases in Brevard County, Florida that are puzzling, fascinating, and disturbing all at the same time. The latter has been a passion project of mine since my time at UCF and I'm finally pushing myself to complete it."
To check out his work, click here.
This article was written by Iulia Popescu.