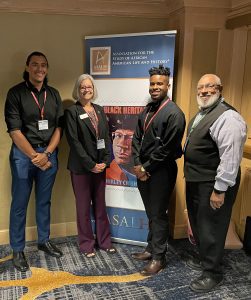 UCF Film documentary student Jones Reeves and History graduate student Sebastian Garcia presented two documentary films in September at the Association for the Study of African American Live and History (ASALH).  Both films centered on historically Black neighborhoods born out of segregation that are now challenged by gentrification:  Parramore in Orlando and LaVilla in Jacksonville.  "Jewel of Parramore: The Wells'Built Hotel" was produced by honors students in a 2022 course co-taught by Dr. Robert Cassanello in UCF's History Department and Dr. Lisa Mills in the Nicholson School of Communication's Film Program.  Sebastian Garcia was one of the associate producers and researchers for that documentary.  "LaVilla:  Magic City" was produced, shot, and edited by Jones Reeves, a student in the UCF Film BA.  Dr. Mills assisted Reeves with writing the film. 
The film about Parramore is now screening for visitors to the Wells'Built Museum of African American History and Culture in downtown Orlando. WJCT-TV in Jacksonville has expressed interest in airing Reeves' film about LaVilla upon its completion in mid-2024.

By Dr. Lisa Mills.
Published to Nicholson News on November 2nd, 2023.
If you have any news, accomplishments or highlights about your work or life, please be sure to share them with us, by emailing us at NicholsonNews@ucf.edu.