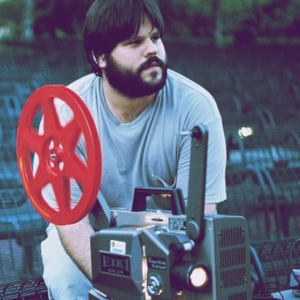 February was nothing short of eventful for Broadcast Production Specialist Jon Bowen. For starters, he was named UCF's University Support Personnel System (USPS) employee of the month. Bowen was nominated by Boyd Lindsley, senior associate director of NSCM and Jon's current supervisor, with a letter of support provided by Jason Burrell, assistant director of UCF's School of Visual Arts and Design, and his previous supervisor.
"Jon is a rare combination to find in a staff member; his professional experience in the field of film, his education and training, coupled with his technical skills make him a great asset for the school," said Lindsley in his nomination. "Not only does he oversee the distribution of thousands and thousands of dollars in film equipment to students, he writes and wins Tech Fee Grants ($1.5 million over the past 10 years)."
"He is committed to excellence," Lindsley continued. "Jon brings cutting edge technology to UCF and puts it in the hands of our faculty and students. He insists on the highest technical and professional standards our equipment and students can deliver. Because of his involvement in the film program's new curriculum, the department and thousands of students will benefit from his efforts."
Bowen's February accomplishments don't end there. He also won a 2019 College of Arts & Humanities (CAH) Staff Award, celebrated his 10-year anniversary working at UCF, and was bestowed a new job title in February. He is now Broadcast Production Specialist II and is designated as an administrative and professional (A&P) employee.
In addition to those achievements, Bowen spends a great amount of time ensuring that students have everything they need to be successful — including offering advice and counseling to anyone who needs to talk.
He has helped modernize the production environment and secure new tools like advanced camera packages to assist students as much as he possibly can. "We wanted to have these powerful tools to help stem creative stories and support the students better," Bowen said.
As USPS employee of the month, Jon received a one-time $200 cash award, $25 from UCF Business Services and UCF Bookstore, and a marquee announcement. He is now in the running for USPS Employee of the Year and a $2,500 award, announced at the UCF Annual Awards Program.
This article was written by Iulia Popescu.