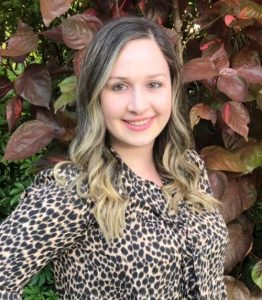 One way to excel and gain valuable career insights in a particular field of interest comes from participating in mentorships.
Quality mentoring has shown to enhance students' chances for success. But mentoring can also have a profound effect on the mentors themselves.
Alumna Valerie Moses has served as a mentor for the past three years, helping her mentees find themselves in their professional settings through the Nicholson School of Communication and Media (NSCM) Alumni Mentorship Program.
Hosted by the NSCM Alumni Chapter, the NSCM Alumni Mentorship Program helps foster meaningful relationships between NSCM alumni and current students.
The program pairs alumni mentors with undergraduate student mentees who have similar academic, career and professional backgrounds and goals.
Alumna Moses, who graduated from UCF in 2013 with a BA in Advertising/Public Relations, with a minor in Hospitality Management, and in 2018 with her MBA, has worked with many NSCM students.
"As a mentor, you can serve an impactful role in your student's life and help guide them by sharing your own experiences as a Knight," Moses said. "Through the mentorship program, I've had the opportunity to get to know my students and help them through the exploration process as they began to select classes, apply for internships and prepare for graduation. My mentees have also had the opportunity to shadow me and my team members on the job."
The mentors also help mentees fine-tune their resumes and cover letters, talk about best practices before events like Intern Pursuit and discuss ways to get involved on campus. By the end of the semester, mentors will have helped mentees complete an updated resume and LinkedIn profile as well.
Geographical restrains are no longer an issue, as due to the current COVID-19 pandemic, all activities will be virtual.
The NSCM Alumni Mentorship Program is currently accepting applications until Friday, September 18, 2020.
For more information on how to be involved, please email UCF NSCM Alumni at NSCMMentor@ucfalumni.com
Published September 1, 2020. Written by Iulia Popescu.
If you have any news, accomplishments or highlights about your work or life, please be sure to share them with us, by emailing us at nicholsonews@ucf.edu.