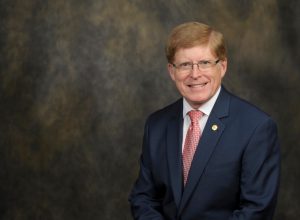 Founding director and professor at the Nicholson School, Robert Littlefield, Ph.D., will be inducted into the National High School Hall of Fame in the summer of 2021.
"I am so appreciative to have been nominated for this honor by the North Dakota High School Activities Association staff," Littlefield said. "Being included in a hall of fame with such standouts as Larry Bird, Chandraa Cheeseborough, Phil Jackson, Jackie Joyner-Kersee, Joe Theismann – to name only a few – is truly humbling. Out of the 482 individuals who have been inducted since its founding in 1982, only about 15 have been in the Performing Arts, so it's an honor for me to be included among these individuals I have admired throughout my career."
Littlefield is scheduled to be inducted in the Class of 2020 at the National Federation of State High School Associations (NFHS) Summer Meeting set for June 28-July 2, 2021, in Orlando, Florida. He will be honored in the Performing Arts Category, and joins seven outstanding former high school athletes, three highly successful high school coaches and one former state association administrator.
Littlefield is recognized as one of the top speech and debate coaches and educators in North Dakota and nationally for more than 45 years. During his time coaching at Shanley High School in Fargo, Littlefield revitalized the program and had individuals and teams regularly placing at regional, state and national competitions for more than a decade. In 2012-13, he coached the Shanley debate team to the International Public Policy Forum World Championship sponsored by the Brewer Foundation and New York University.
During most of his time in North Dakota, Littlefield was a professor at North Dakota State University and directed the NDSU High School Speech and Debate Invitational tournament for 25 years.
After beginning his career as director of forensics and fine arts in the Barnesville (MN) Public Schools, Littlefield worked at high school and collegiate levels in North Dakota until 2016, when he became Director of the Nicholson School of Communication at UCF.
In addition to coaching, he revitalized the Communication, Speech and Theatre Association of North Dakota and actively planned and coordinated its convention and speech clinics for high school teachers and students for more than 20 years.
In addition to service on national boards and committees, Littlefield's research, development, and publications in scholastic journals and instructional workbooks has been extensive. Littlefield is the author of more than 85 refereed publications and several books, receiving recognition from state, regional, and national organizations for his scholarly activity.
Founded in 1920, the National Federation of State High School Associations is the national leadership organization for high school sports and performing arts activities. The National High School Hall of Fame was founded in 1982 high school athletes, coaches, officials, administrators, and others. For more information on the National High School Hall of Fame, visit this page of their website.
Published July 1, 2020. Written by Iulia Popescu.
If you have any news, accomplishments or highlights about your work or life, please be sure to share them with us, by emailing us at nicholsonews@ucf.edu.