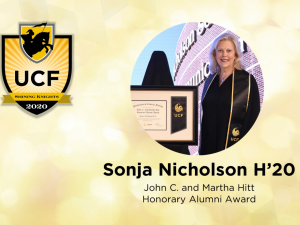 Sonja Nicholson, one of the benefactors of the Nicholson School of Communication and Media, has been awarded with the John C. and Martha Hitt Honorary Alumni Award during the 2020 Shining Knight Awards.
The ceremony is an annual event that celebrates UCF's most committed and passionate supporters. These recipients are all exemplary of innovation, generosity and grit – all the markings of a true Knight.
Members of the university community submit nominations and, through the support of our UCF Alumni Board, a distinguished class of honorees who have demonstrated their loyalty and devotion to the institution is selected for this distinction.
There are more than 300,000 living alumni around the state, country and throughout the world, and each year there are about 15,000 more added to that list.
The John C. and Martha Hitt Honorary Alumni Award winners' commitment to UCF and its future through the generosity of their time, expertise, influence and financial support were awarded among others. All of the award winners for 2020 Shining Knight Awards can be found here.
Sonja Nicholson has made an immeasurable impact for which the school is forever grateful for. Her dedication to and passion for UCF placed her as a John C. and Martha Hitt Honorary Alumni Award honoree this year.
"I am so honored to receive this award," said Sonja in a UCF Today article. "Over the past 26 years, we have spent a lot of time around the university — from academics to sports and many things in between — and I have enjoyed every minute of it. It is great to share with my husband, children, grandchildren and friends. I like that UCF brings us all together."
Sonja Nicholson is married to Tony Nicholson, a 2018 honorary graduate of UCF, and together the Nicholsons have long been involved with UCF. In 1996, they generously pledged a donation to the university, and in return, the university named the School of Communication after them.
Sonja Nicholson is currently a member of the UCF Nicholson School of Communication and Media's Advisory Board and a member of UCF's Town and Gown.
"Tony and I had the opportunity to meet Dr.Hitt and Martha in the fall of 1994, attend a football game and a few UCF events," Sonja Nicholson said. "I was introduced to Town & Gown by Martha Hitt in the fall of 1994 and became president in 2001. Tony and I have stayed on the UCF Nicholson School of Communication and Media Advisory Board as well. We take great pride in seeing the enhanced education offered to the students. We appreciate the great leadership of Dr. Littlefield, Boyd, and the staff!"
At the ceremony (the section for Sonja begins at 32:15), NSCM director and professor Robert Littlefield, Ph.D., provided some heartfelt words.
"Sonja Nicholson is a remarkable woman, and is deserving of this award because she is such a supporter of the school and the university," said Littlefield. "I'm really gratified that the university is recognizing her with this special alumni award this year because in the future, when students receive scholarships, faculty advance their research and careers, and the School continues to offer its exceptional programs, people will remember this special person, who with her husband, created an endowment that enabled these things to happen. I couldn't be happier for her."
Published November 2, 2020. Written by Iulia Popescu.
If you have any news, accomplishments or highlights about your work or life, please be sure to share them with us, by emailing us at nicholsonews@ucf.edu.