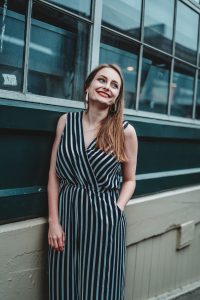 As a student, busy bee Sarah Schreck '18 was consistently involved with UCF. From dabbling in theatre to studying public relations to completing an undergraduate thesis, she has been nothing if not a hard worker.
Schreck graduated UCF with her bachelor's in advertising and public relations, bachelor's in theatre studies and two minors in creative writing and performing arts administration.
While at UCF, she served as the marketing director of Project Spotlight, UCF's student developmental theatre organization, and was involved with all kinds of Theatre UCF happenings, from the Playback Theatre Troupe to main-stage productions. But the undergraduate thesis she did as a student helped to propel her into the real-world by teaching her more about the insides of branding through her own riveting research findings.
Schreck initially became interested in the Honors Undergraduate Thesis (HUT), or Honors in the Major (HIM), program as she felt like it could provide an excellent opportunity to showcase the intersection of both of her degrees, as well as prepare her for graduate school.
In coordination with the Orlando Shakespeare Theatre, Schreck decided to study how brand-relationship public relations techniques affects the relationship between performing arts organizations and its patrons. Her research, titled "Filling the House: Engaging a Millennial Performing Arts Audience" can be found here.
"My goal was to identify new methods of engaging millennial audiences," Schreck explained. "The issues I tried to tackle are being faced by all arts organizations in the nation, and it's been fascinating to build on my academic knowledge in professional settings. I've been able to use my work from my Honors in the Major thesis multiple times in class and in the workforce."
Schreck's results found that if a performing arts organization wants to improve attendance, they should look at whether or not their patrons feel strong control mutuality, which is when an organization and their audience feel like they have appropriate control of their shared experience and have respect for each other. Organizations with strong control mutuality make their patrons feel as though their opinions truly matter.
And Schreck has certainly put her findings to good use.
"I was able to visit the Kennedy Center after graduating due to my work with the UCF Theatre Department on their production of 'Of Thee I Sing,'" Schreck said. "While I was there, I spoke with members of their staff about my research. They're making the same efforts to tackle these problems and are implementing solutions that were aligned with my findings."
Schreck's research was conducted under assistant director of academic programs and associate professor Melissa Dodd, Ph.D.
"My fearless thesis chair, Dr. Melissa Dodd, guided the project masterfully through all of its twists and turns," Schreck said. "I also owe a great deal of thanks to Jim Helsinger and Christian Knightly at Orlando Shakes, as well as Doug Blemker, who all played a direct role in my work."
The Orlando native is now taking on a Master of Arts Management program all the way in Pittsburgh, Pennsylvania at Carnegie Mellon University.
"I'm very happy to say that the undergraduate thesis was a successful stepping stone!" stated Schreck. "I'm currently in the final months of the Masters of Arts Management program at Carnegie Mellon University. Since graduating from UCF, I have continued to serve as an arts marketer and public relations practitioner. I'm currently the marketing assistant at the Greater Pittsburgh Arts Council, a freelance graphic designer, photographer for local arts organizations and have been an intern at Quantum Theatre and Attack Theatre – two internationally recognized, cutting-edge performing arts companies."
Although the HUT program is rigorous, having the opportunity to do undergraduate research opens many doors of opportunity to uncover enthralling concepts.
To be eligible for the program, students must have 60 hours of college credit already accomplished, 12 upper division hours of college credit accomplished, a 3.2 or higher UCF GPA or overall GPA and two or more semesters remaining prior to graduation. There may be additional requirements from certain departments.
"An Honors thesis helps students develop intellectually and personally in several ways," said Padmini Waldron, Ph.D., director of the office of honors research. "They become deeper thinkers, more focused students, creative problem-solvers and better writers. They develop better project and time management skills and find reserves of resilience within themselves that they sometimes did not know were there. An Honors thesis is excellent (probably the best) preparation for graduate and professional education, as well as valuable experience for the workplace."
Students who complete the program will earn honors in the major, honors in research or honors in creative inquiry distinction on their diploma and transcript, be a part of the Burnett Honors College and have eligibility for Honors scholarships as well as access to Honors workshops, among other benefits.
Schreck's direct advice to students: "I encourage you to think outside the box. Some of the projects I've seen have resulted in incredible artistic creation! Research is not limited to the hard sciences. You are not limited by your medium or interests, you are empowered by them! Make bold choices. And then make a schedule! You'll want a lot of structure to follow so you can keep the ball rolling. Always assume something will take a week longer than you think. But most importantly, try to have fun! You'll walk away proud, regardless."
If interested in the HUT program, go to their homepage for more information or email NSCM advising at nassc@ucf.edu.
This article was written by Iulia Popescu.