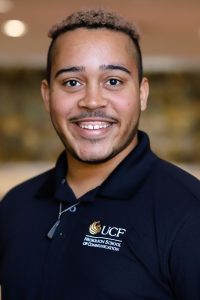 Victor Martinez is one of more than 200 Puerto Ricans who transferred to UCF this January due to a massive exodus of the island since September 2016. Martinez had just started his junior year in the University of Puerto Rico – Recinto de Rio Piedras, San Juan when Hurricane Maria hit the island in September. The Category 4 hurricane left millions without power or water for several months.
"Nobody was really ready for Hurricane Maria," said Martinez.  Martinez's family had strongly encouraged his maternal grandmother, who lived just minutes from the shore, to stay with them until the hurricane passed. After the storm, they found that she'd lost everything, including cherished family photos due to flooding related to the storm. He didn't know if members of his extended family were safe until days after the storm passed.
The timing couldn't have been worse: the Puerto Rican government already owed a huge debt to the United States government at a time when governmental budget cuts and increasing unemployment were making it difficult for citizens to function. When Hurricane Maria arrived, many Puerto Ricans were forced to rebuild their lives from the ground up.
All the disruptions made it very difficult for Martinez to attend classes. His only means of getting to campus was the local train, which was not operational by the time classes started again in November. Moreover, he still didn't have electricity or internet to study and complete his assignments. He tried to make it work, but it was simply not possible.
"I considered my situation and looked into UCF's hurricane aid program," said Martinez, 20. He researched the program, which allows displaced students from Puerto Rico to receive in-state tuition, and decided to apply.
"I felt confident that UCF was going to accept me, so I dropped all my courses and waited for a response," said Martinez. UCF was his only choice. "I don't regret my decision and would do it again in a heartbeat. It was an easy transition and I was very excited about becoming a Knight."
When he started at UCF, Martinez didn't know that the Advertising/Public Relations major is a limited access program. He sought help from the Nicholson School of Communication managing director of advising and student services, Rebecca Morales, who went over every detail of his transfer.
"Rebecca has been great and I am very grateful for her," said Martinez.
Martinez is proud that he's been admitted to NSC's Advertising/Public Relations program and has had an amazing transition overall.
"I feel good, have good grades and great friends," Martinez said. The new Knight also joined the Puerto Rican Student Association (PRSA), where he met other Puerto Rican students going through the same experience he was. He also started working in the administrative office of NSC as a communication assistant, at the recommendation of Morales.
Martinez loves his home in the sunshine state.
"Florida has a lot to offer to students," he said. "I love the diversity of people and culture and how they all overlap in a college town is simply great."
Martinez has big plans for the future, including graduating with honors and doing in-house advertising work for an airline. Martinez is embracing the changes in his life and wants to take advantage of everything UCF has to offer him.