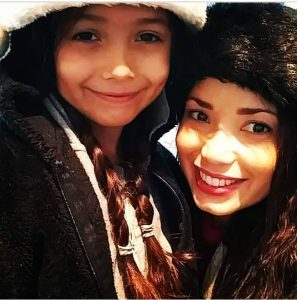 Lillian Hernández Caraballo, a 35-year-old non-traditional student and mother to an eight-year-old daughter, returned to school later on in life to major in journalism, feeling more inspired than ever before.
"I have changed my major over seven times," said Hernández Caraballo. "I wanted to choose a career that could help propel change. After my first year of journalism classes and reading the works of Rodger Streitmatter, I decided this was the only way."
Hernández Caraballo applied for the National Public Radio (NPR) News' coveted program and persevered through any and all difficulties to secure herself a spot. She was chosen among six students total, one of which, Monica Sealey, was also from the Nicholson School.
"I knew it was a slim chance that I'd get it, but I wanted it and gave it my best shot," Hernández Caraballo stated. "It took me two days to answer all the essay questions on the application, an extra day to edit them, and I took one more day to proof-read them. I know that my application shone through likely due to my writing, and those skills have been honed in my writing and rhetoric minor classes, especially a class called technical editing."
She initially found out about the NPR News training opportunity while studying under professor Rick Brunson, a man whose passion for journalism may only be surpassed by his enthusiasm for his students' potential. He exhorted the class to apply for the NPR program, so she decided to give it a chance.
But on March 31, as a finalist in the midst of the application process, disaster struck for Hernández Caraballo. She was heading East on U.S. 520 on her way home when she got into a terrible car accident, only a few days before her story proposal to the Next Generation Radio program was due.
The catastrophic crash tragically resulted in the death of the other vehicle's driver and left herself briefly confined to a wheel chair. She was suddenly without a car and banged up badly, but she wasn't about to let that stop her. She had a deadline to meet.
Since she couldn't drive, Hernández Caraballo decided to hire a driver to carry her to a Hispanic-majority part of Orlando where she went out searching for a story subject as time ticked on.
She ultimately found her subject in Oscar Lagos, a man who had come to Orlando from Argentina and worked hard after almost losing everything, trying to sell 'Choo-Choo Churros' until he eventually opened his dream restaurant in 1992, which he said was the first Argentine restaurant in Orlando.
After speaking with him, Hernández Caraballo decided that his story would be her pitch. She did not mention her condition or circumstances because she wanted to be chosen strictly out of merit. And she was – her pitch was accepted, much to her delight.
The competitive training program, Next Generation Radio, went on for five days in the W Mid-Florida Educational (WMFE) newsroom from April 29 through May 3. Students worked diligently with their mentors, during the difficult week of finals, to produce a remarkable multimedia story that focused on the theme of immigrants in the Central Florida area and their "First Days in America."
"What struck me about our students was how seriously they took this opportunity," Brunson, who was also asked to serve as a mentor and trainer alongside NPR staff, said. "They were very aware of their surroundings, that their mentors and editors were professional journalists of the highest caliber, and that their work was expected to meet the high and exacting standards that the NPR News brand represents. Rather than be paralyzed by that reality, they rose to the challenge to meet those expectations. By the end of the week, they were rightly proud of their work – and I was so proud of them.''
To view her article, "Argentine Immigrant Lives the American Dream on his Own Terms," click here.
During Friday's closing ceremony at WMFE, Hernández Caraballo's daughter and grandmother were in attendance. While accolades were being passed out, her daughter rushed up to the front, teary-eyed, and threw her arms around Hernández Caraballo in a touching moment.
"When I was finished speaking, my daughter came up to me from the audience, and gave me a big hug and kiss," Hernández Caraballo said. "It wasn't just her display of affection that touched me, even as I say this now, I have to hold back my emotions because it was the way she looked at me. I had seen that look in her before, not very many times, but I have: it was pride. She was so proud of me and has become so inspired by the work of journalists. I am so blessed to have her understand it to such a deep level at such a young age."
Her story is one of grit and determination, great skills to have as a journalist. Through her efforts, she is working to become a catalyst of change.
All the students performed admirably, as their work demonstrates. To check out the entire project, visit Next Generation Radio's website.
This article was written by Iulia Popescu.