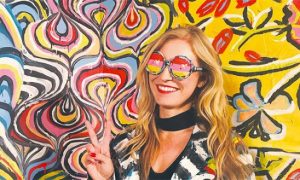 On any given day, you can find UCF alumna Kristin Harris sitting in her New York office, preparing to work with everyone's favorite A-list celebrities. As the celebrity editor and an individual who focuses on talent relations at BuzzFeed, Harris is responsible for managing relationships, booking talent, conducting on-camera interviews and more. Since she was 10 years old, Harris has dreamed of the career she currently has. Although it's taken a lot of hustle, persistence and hard work, the Nicholson School of Communication alumna is proud to say her education and time at UCF fully prepared her.
"I was really shy growing up," said Harris, who graduated with her bachelor's degree in advertising and public relations in 2011. "It was really through my experience at UCF — the friendships I made, the professors I met and the opportunities I had — that I grew into the kind of person who could go after her dreams and make them happen."
For Harris, no two days are exactly the same. She gets to do a lot in her role, from flying to California and interviewing Zac Efron, to brainstorming with Bill Murray. According to Harris, her experiences make the job feel unreal.
"I had the opportunity to host Ed Sheeran's Divide album launch," said Harris, who happens to be a fan of Ed Sheeran. "I honestly couldn't believe it was happening and had rarely been more nervous in my entire life. It was such a fun interview and I got to stand a few feet away as he performed acoustically on his guitar. It was one of those moments that I look back on and still can't wrap my head around."
Despite all the fun things she gets to handle, Harris always keeps BuzzFeed's audience in mind. Remembering her audience and connecting with them through the content she helps create is what drives Harris' work.
"For the pop culture team, we really write for the fans and as fans," said Harris. "Every time I write something, my goal is to write what the audience is thinking. That's really when you're connecting with someone."
It's taken a lot of work for Harris to get where she is now, but she wouldn't change a thing about her journey. From UCF to BuzzFeed, Harris doesn't believe the sky is the limit. For Harris, there really is no limit to what anyone can do in this world.
"In this world, your imagination is your opportunity," Harris says. "Whatever you dream up, you can make happen."
This story was originally published by here.