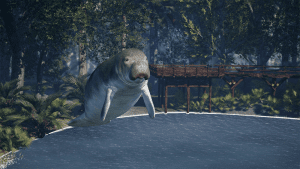 The summer may be a break for some, but for others the work does not slow down. Students from the Nicholson School of Communication and Media's Games and Interactive Media Program have continued to work on their projects and are now ready to share them!
NSCM alum Neri St. Charles led the development of the game, Zombie Ants VR which is now available on Steam. Dr. John Murray, Assistant Professor at NSCM consulted on the game after a prototype was built by a team in his Multi-Modal Design class. The game was also led by University of Utrecht Professor, Dr. Charissa de Bekker, with the support of the National Science Foundation (NSF). If you are familiar with the show, The Last of Us, then you may know about the fungus Ophiocordyceps, which manipulate the behavior of their hosts. Check it out here: https://store.steampowered.com/app/2416150/Zombie_Ants_VR/.
In addition, Dr. Maria Harrington's students have entered their work into the Unreal Engine Student Showcase. For example, recent Digital Media MA graduate Erica Winfrey's work was entered into this showcase. The itch.io link, a platform where students can upload their independent projects, can be found here: https://aquarica.itch.io/vr-blue-springs.  
Harrington also nominated Chris Jones, GaIMs BA (2018) and Fred Martin, Modeling and Simulation, MS (2023) for the Epic Student Showcase and submitted photos and videos of their exceptional work.
All three student's work may be found here at this link here: https://drive.google.com/drive/folders/1RSWgbCGQi23uU2JvHY9PEeE8FcbGpirp?usp=sharing  
By Majdulina Hamed.
Published to Nicholson News on August 2nd, 2023.
If you have any news, accomplishments or highlights about your work or life, please be sure to share them with us, by emailing us at NicholsonNews@ucf.edu.