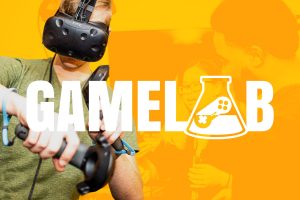 Monday, April 27th, Florida Interactive Entertainment Academy (FIEA) graduate students will be showing off eight new research prototype projects developed with subject-matter experts from national entities and companies. These presentations will be captured via Zoom and available soon after the event. The projects being presented include:
NASBLA HGN Test –  NASBLA HGN Test is a game made in partnership with the National Association of State Boating Law Administrators (NASBLA), which teaches first line law enforcement the horizontal gaze nystagmus field sobriety test.
Welcome to DAU! – Welcome to DAU (Defense Acquisition University) is an interactive on-boarding experience that allows new hires to visit and explore the campus as well as meet the senior team.
Da Vinci Buttonology – Partnered with Advent Health, this game is a virtual reality experience that teaches clinical personnel how to prepare the DaVinci Surgical Robot for operation.
FLETC Adaptive Training Simulator – This driving game adjusts its difficulty based on the biometric feedback signals of its players. It is a joint research project with the Federal Law Enforcement Training Center (FLETC) and Drexel University.
Project Everglades – Project Everglades is a strategy game building upon Lockheed-Martin research where players challenge an Artificial Intelligence platform.
Children's Yoga – In partnership with the University of Florida's Human Centered Computing Program, this virtual reality experience teaches children basic yoga poses through an adventure based in Russian folklore.
On Stage: In Treble- This virtual reality experience allows musicians the opportunity to perform on stage in front of a "live" audience to help overcome performance anxiety.
Rules of the Road – Rules of the Road is a third-person game, created in partnership with the Naval Air Warfare Center Training Systems Division, that teaches new sailors the navigation rules necessary to interact with other vessels at sea.
This story was originally published by FIEA. Published for Nicholson News on July 1, 2020.
If you have any news, accomplishments or highlights about your work or life, please be sure to share them with us, by emailing us at nicholsonews@ucf.edu.