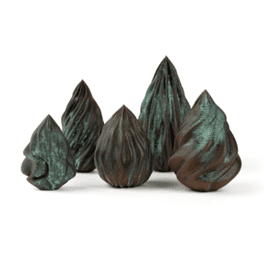 Associate Professor at the Nicholson School of Communication and Media, Matthew Mosher, is very excited to announce the opening of his duo exhibition with Christy Wittmer at Eric Fischl Gallery.
Reception: 16 October 2023, 5:30-8:00PM, 1202 W Thomas Rd, Phoenix, AZ 85013
The exhibition, "A Collaboration with Computation," will run through November 2nd, 2023, and contains new work from his recent sabbatical. Mosher mentions that "this work is designed entirely with code algorithms. The sculpture forms are then 3D printed and patinated. Other works are printed in 2D or cut out of paper. Unlike AI art, these pieces are all hand coded by the artist, and do not use training samples from others. The work explores how chance operations can lead to refined aesthetic outcomes." 
 https://www.phoenixcollege.edu/community/eric-fischl-gallery 
By Majdulina Hamed.
Published to Nicholson News on October 6th, 2023.
If you have any news, accomplishments or highlights about your work or life, please be sure to share them with us, by emailing us at NicholsonNews@ucf.edu.