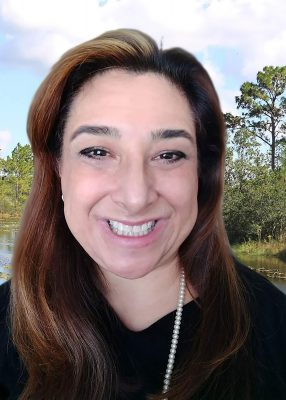 Dr. Maria C. R. Harrington is an Assistant Professor of Digital Media in the UCF Nicholson School of Communication and Media. She also has a second joint appointment in the UCF Learning Sciences Cluster, is a core faculty in the Texts & Technology Ph.D. program, and is a Research Associate with the Carnegie Museum of Natural History with the Powdermill Nature Reserve.
She is an American information scientist and artist. Research focus is on Virtual Nature, and the aesthetics in the perceptual ambient array and information science theory as it relates to beauty found in natural environments using augmented reality (AR), virtual reality (VR), GIS simulations, and new media art to explore the phenomena of human reactions. Such tools are used to investigate human interaction of real-virtual environments and impacts on perception, learning, health, and creativity. Such systems influence scientific, human, social, and cultural transformations. She is director of The Harrington Lab, and has consulted on projects using AR and VR with the Carnegie Museum of Natural History.
Research area is broadly related to the development of digital media artifacts from human-computer interaction, user-centered design, and data visualization perspectives. There are two major creative research projects currently under investigation. The first project is AR Perpetual Garden App used in museums, and the second project is the investigation of VR with The Virtual UCF Arboretum, both are used to study informal learning, emotional, and aesthetic impacts of immersive, multimodal, and interactive digital media as knowledge artifacts. Both projects have resulted in grants, awards, publications, and presentations. The AR apps are available on iTunes, Google Play stores, and digital media on PBS LearningMedia. Papers appeared in peer-reviewed international journals and conference proceedings, including: Curator: The Museum Journal, Virtual Reality, IEEE Transactions on Learning Technologies, and Museum and the Web, NASA Human Research Program, HASTAC, Human Factors and Ergonomics Society, ACM-SIGCHI IDC, and ACM SIGGRAPH.
She has been PI or co-PI on research in Virtual Nature and its applications. Awarded an Artist in Residence fellowship and invited to become a Research Associate with the Carnegie Museum of Natural History, Powdermill Nature Reserve, she is investigating informal learning with digital media. Awarded a grant from the UCF/Office of Research & Commercialization, VPR Advancement of Early Career Researchers (AECR), she is engaged in interdisciplinary research with the Department of Psychology investigating immersive multimodal applications of The Virtual UCF Arboretum with a treadmill. She has been recognized as a national and international scholar with invitations to conduct a Virtual Nature Workshop in Game Development and Mixed Reality, at the MultiMediaTechnology Program of the Salzburg University of Applied Sciences, Austria, and at the University of Pittsburgh. In the past, she was invited to review grants for NSF Computer & Information Science & Engineering (CISE), Information & Intelligent Systems Division (CII), Cyber-Human Systems (CHS), for the ARVR Panel.
---
Recent Projects
Below are images from recent projects by Dr. Harrington: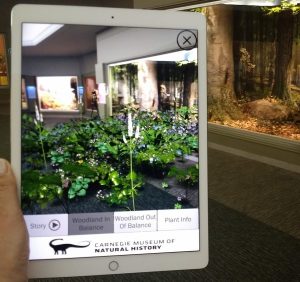 ---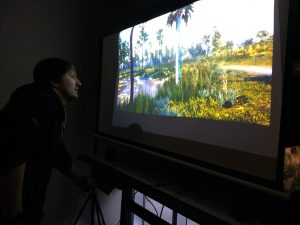 ---