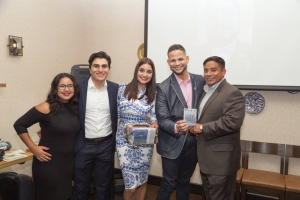 Cristóbal Reyes-Rios, a journalism major in the Nicholson School of Communication, is the recipient of a $5,000 scholarship from the National Association of Hispanic Journalists (NAHJ) Central Florida Chapter. NAHJ Central Florida joined efforts with the Hispanic Heritage Scholarship Fund of Metro Orlando (HHSFMO) to offer the $5,000 scholarship to a deserving journalism student in Central Florida.
During NAHJ Central Florida's first fundraiser of the year, Cocktails for a Cause, at Bulla Gastrobar, the board presented Rios the award. Rios, who is also a political science major, has demonstrated leadership, passion and commitment to the field of journalism. Furthermore, Rios' character when facing adversity has demonstrated responsibility and social welfare. Rios said he is grateful to have this scholarship which will help him finish his education.
"I wasn't expecting to win the scholarship," said Rios, who is going into his senior year at UCF. "Now that I have, I am going to make the most of it. The plan is to get started in Orlando as a reporter and eventually move to the Northeast. I hope to move to Washington, D.C., where I can cover Capitol Hill. My highest aspiration is to be an investigative reporter or political correspondent for The Guardian."
NAHJ Central Florida is thankful for the partnership with HHSFMO and Telemundo Orlando, ZGS Group for making a reality this scholarship award. In addition, the NAHJ Central Florida board thanks everyone who attended Cocktails for a Cause. Between registrations fees, raffle tickets and a silent auction, NAHJ Central Florida raised more than $3,500. These funds will go toward additional student scholarships and sending members to the #EIJ17 Convention in Anaheim, California.
NAHJ is the largest organization of Latino journalists in the United States and dedicated to the recognition and professional advancement of Hispanics in the news industry. NAHJ Central Florida Chapter works directly with the national board to increase the number of Latinos in newsrooms and to work toward fair and accurate representation of Latinos in news media.
There is a student chapter of NAHJ in the Nicholson School of Communication. For more information, please contact Katie Coronado.