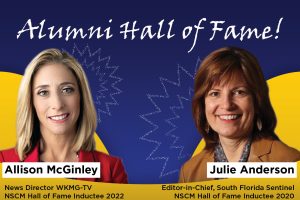 The Nicholson School of Communication and Media recognized Allison McGinley, news director of WKMG News 6 and Executive Chair of the National Radio Television Digital News Association and Julie Anderson, Editor in Chief of the Orlando Sentinel for their Hall of Fame induction. Both alumni from NSCM are honored and excited to receive this esteemed distinction. Anderson and McGinley discuss what this moment means to them, their inspiration, and advice they would give to young people today.
"I don't know that I ever pictured myself as having the opportunity to be placed in such a position of honor, as a hall of fame, for the college at which I graduated in my home community. It's just a really wonderful honor and I'm excited that students will pass by that wall of photos and maybe get a little bit of inspiration from myself and the other honorees," stated McGinley.
Anderson also adds that, "my career has taken so many twists and turns, but one constant was UCF. To be honored today, to be inducted in the hall of fame is really special because it's where it all started."
Listen to the interview below to hear more from the honorees themselves:

By Majdulina Hamed.
Published to Nicholson News on October 7th, 2022.
If you have any news, accomplishments or highlights about your work or life, please be sure to share them with us, by emailing us at NicholsonNews@ucf.edu.