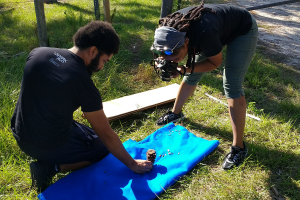 Ever seen the iridescent blue-violet tones of a blossoming Forked Bluecurl in the grass or a little white Bog Button in the marshes? What about the starry shape of a Florida Paintbrush – a striking flower with a star shaped opening and long protruding stigmas – which attracts tiny pollinators?
The UCF Arboretum, a place where trees, shrubs and herbaceous plants are cultivated for scientific and educational purposes, is home to these plant species and many more.
Digital media assistant professor Maria Harrington, Ph.D., has created a virtual experience which allows users to hike through the arboretum and learn about its flora without having to leave the house.
The Virtual UCF Arboretum allows users to virtually hike through UCF's real arboretum, which is located on UCF's main campus. The arboretum contains more than 600 species of plants, including more than 100 bromeliads, in this unspoiled Florida habitat.
Thanks to the incredible work Harrington has done, Forked Bluecurls, Bog Buttons, Florida Paintbrushes and many other types of flora are available to experience year-round through highly realistic 3-D models.
Epic Games, the company responsible for the online video game Fortnite, has awarded Harrington a $25,000 grant to help with the Virtual UCF Arboretum.
Harrington initially began her project in 2016 with a website virtual field trip guide, which resulted in the VR 1.0 version, The Virtual UCF Arboretum. It is available for download onto any VR ready PC, where people can experience the 100 hectare (247 acres) virtual model for themselves.
The grant will upgrade the 1.0 version to the 2.0 version.
"The Virtual UCF Arboretum version 2.0 project scope funded by this grant will upgrade the 2018 Central Florida 3-D plant models to current augmented reality (AR) and virtual reality (VR) technical specifications, making use of the procedural modeling capabilities of the newer technologies," Harrington said. "Additionally, new partnerships with botanical gardens and university related arboretums in the American Southwest and Pacific Northwest will be explored so to extend the plant atlas to a nationwide sample. Such a wide sample of North American plants is needed for future projects planned."
Harrington is an assistant professor of digital media at the Nicholson School of Communication & Media and director for The Harrington Lab. Her main medium is immersive environments, specifically augmented reality (AR) and virtual reality (VR). She studied economics and art at Carnegie Mellon University, and received her doctorate in information science from the University of Pittsburgh in 2008.
Previously, Harrington created the AR Perpetual Garden App, which generates an AR environment that allows visitors to produce virtual gardens. She's earned multiple awards and fellowships and is a research associate with the Carnegie Museum of Natural History, Powdermill Nature Reserve.
The research that she does covers the development of digital media artifacts from human-computer interaction, user centered design and data visualization perspectives. The grant will allow Harrington's collaborative work to continue.
"The Epic grant will make it possible for continued interdisciplinary collaboration with the real UCF Arboretum and my partners there," Harrington said. "Dr. Patrick Bohlen and his team of biologists, with their deep knowledge in botany, are critically important to ensure the accuracy of the information fidelity expressed in the final digital media products.
The online arboretum provides stunning images that look real because they are a true-to-life rendering of UCF's wildlands that users can freely navigate through virtual reality or a computer. Drone mapping and photographs were used to help create 3-D models of high botanical accuracy.
The Virtual UCF Arboretum is the first of its kind to visualize GIS data of native plants and flowers, in 100 hectare (247 acres) of Central Florida terrain, and one that achieves high information accuracy, with photorealistic perceptual parity to match the real environment.
"Not only are [these immersive models] photorealistic and beautiful, but what you see is information that represents the data – truth – and not creative fantasy," Harrington said. "Much like botanical illustrations of the past, they are a form of scientific communication, ideal for constructing museum exhibits and in support of educational and informal learning activities desired by the public, especially now during COVID-19."
Harrington was also awarded a grant from the UCF/Office of Research & Commercialization, VPR Advancement of Early Career Researchers (AECR), and is engaged in interdisciplinary research with the Department of Psychology investigating immersive multimodal applications of The Virtual UCF Arboretum with a treadmill.
The augmented reality work of Harrington has been featured in New York Times as well.
VR/AR tools are used to investigate human interaction of real-virtual environments and impacts on perception, learning, health and creativity. Virtual nature environments also hold potential in the treatment and care of medical patients.
Epic Games provided the money through its MegaGrants program, which seeks to encourage development of the unreal engine ecosystem (all the components that make virtual reality possibly online) or 3-D graphics community that makes games like Fortnite more realistic. According to Forbes, the gaming industry was worth $138.7 billion worldwide in 2019. Game-based learning is estimated to account for more than $2 billion in the United States alone.
Find Harrington's publications on Google Scholar, and her creative works on PBS LearningMedia, Apple iTunes, and Google Play.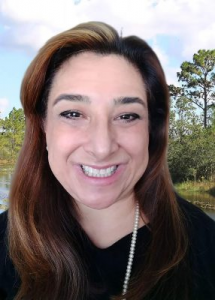 Published June 1, 2020. Written by Iulia Popescu.
If you have any news, accomplishments or highlights about your work or life, please be sure to share them with us, by emailing us at nicholsonews@ucf.edu.