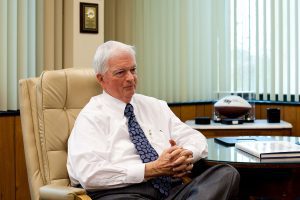 On December 5th, Dr. Dan Holsenbeck passed away with his family by his side. Holsenbeck has been with UCF for over 30 years and had several roles such as Vice President of University Relations, Director of Governmental Relations, public relations and management positions.
As a member of the Nicholson School of Communication and Media (NSCM), Holsenbeck served as a Graduate Courtesy Professor in the public relations department. He was a helping hand in driving the communications and public relations program forward by inviting guest speakers and giving students insights into real-life applications after graduation. Dr. Robert Littlefield, the Director and Professor at NSCM, also adds that "in the public relations courses he taught at both the graduate and undergraduate levels, students left better prepared and ready to face the challenges of their careers. He was generous, supportive, strategic, and collegial. We certainly will miss his presence as a faculty member in the Nicholson School of Communication and Media."
Here is the press release below:
UCF Remembers "Dr. Dan" Holsenbeck | University of Central Florida News
By Majdulina Hamed.
Published to Nicholson News on January 4th, 2023.
If you have any news, accomplishments or highlights about your work or life, please be sure to share them with us, by emailing us at NicholsonNews@ucf.edu.