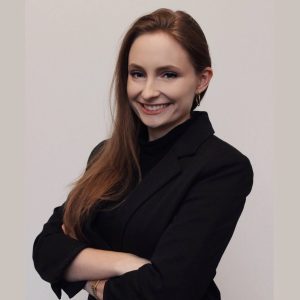 It's always inspiring to see how far alumni from the Nicholson School of Communication and Media have gone in their careers, their achievements, and positive impacts they're making in the world. Dr. Christine Hanlon, Senior Lecturer at NSCM has kept in touch with former student Sarah Schreck, who recently presented a TEDx Talk in December 2022. Schreck, an AD/PR NSCM graduate and honors student in Dr. Hanlon's public speaking class back in Fall 2014, completed an Honors in the Major thesis under the direction of Dr. Melissa Dodd, and has since completed her graduate work at Carnegie Mellon.
Schreck also visited Dr. Hanlon's SPC1603 Honors course (via Zoom) to inspire the students to use their public speaking skills to promote themselves. Here is a screenshot of that visit:
Check out her TEDx Talk here: Practicing Safe Parasocializing | Sarah Schreck | TEDxPointParkUniversity – YouTube



By Majdulina Hamed.
Published to Nicholson News on April 3rd, 2023.
If you have any news, accomplishments or highlights about your work or life, please be sure to share them with us, by emailing us at NicholsonNews@ucf.edu.