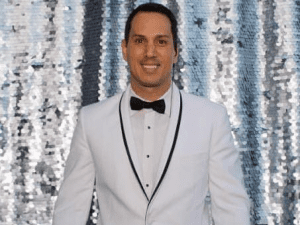 Advisory board member, Hall of Famer and NSCM alum, Heissam "I'm in" Jebailey, recently committed $25,000.00 over the next five years toward the Nicholson School mentorship program, a program he has played an active role in for nearly two decades as a mentor himself.
"I love every time I'm paired up with a student," said Jebailey. "I can offer them advice and then you get to see them grow."
During his time at the University of Central Florida (UCF), he was a big part of Quotes, the advertising public relations organization. He was also a Roast and Toast Scholarship winner. And his first job came from UCF too – working for the school newspaper at the time.
UCF granted him 3 major awards since then including President's Medallion Society in 2005, Professional Achievement Award Winner in 2006 and One of the Youngest UCF NSCM Hall of Famers in 2012.
With a strong devotion to hard work and charity, Jebailey is now the CEO and founder of I'm in. Events, which puts together large networking and charity events. He hosts an annual fundraising event, the Black and White Weekend, to raise money for BASE Camp Children's Cancer Foundation.
Jebailey first imagined Black and White Weekend when a case of pneumonia almost claimed his life, six months after graduating.
"In 2000, I flat lined for three seconds and almost died," said Jebailey. "The only colors I remember seeing were black and white. It was such a difficult time, but UCF supported me through it. After that occurred, in 2010, I started the Black and White Party."
He's interested in helping small local charities and became involved with BASE Camp Children's Cancer Foundation through a chance meeting at a frozen yogurt shop.
"When I got out of the newspaper business in 2010, my business partner, Brian Linden, and I, bought the rights to three frozen yogurt shops, including one in Winter Park," said Jebailey. "And BASE Camp Children's Cancer Foundation came into our frozen yogurt shop with kids to buy frozen yogurt. It was that moment that I thought, this is really good timing for me to give back to the community and add a charity to the events. Now, we basically cover all the programming for the kids throughout the year. We're also funding Emma McDonald's college tuition over the course of four years. She's a multiple-time cancer survivor and she's in her early twenties. So that alone has been a blessing and makes it all worthwhile."
On May 15, 2021, the Black and White Weekend was the first and only major charity event in the world to safely and successfully take place during a pandemic, where about $20,000 was raised for BASE Camp Children's Cancer Foundation. Even before the event occurred in May, Jebailey and his committee were committed to charity, raising over $9,500 virtually.
Next year, they will host the 12th Annual Black and White Weekend on Saturday, May 14, 2022.
Jebailey graduated from UCF in 2000 with a bachelor's degree in advertising/public relations. He has long been committed to supporting children in need and believes in the power of mentorship to help guide students forward.
Published November 1, 2021. Written by Iulia Popescu.
If you have any news, accomplishments or highlights about your work or life, please be sure to share them with us, by emailing us at nicholsonews@ucf.edu.