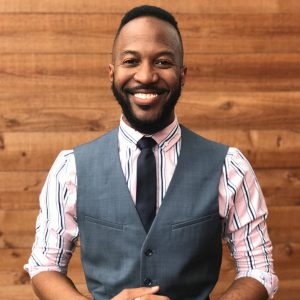 Jaylen Christie is a graduate student in the Nicholson School of Communication and Media, earning a master's degree in communication, who has been selected as a finalist in the Diversity Awards hosted by PR News.
Finalists represent the communicators who use their platforms for the betterment of their communities and the global community at large. They amplify the voices of marginalized groups and dedicate themselves to social causes.
As a finalist in the "Graduate Student of the Year" category, Christie is among them.
"With civil unrest being brought to the forefront in 2020, more companies are taking diversity, equity and inclusion seriously," said Christie. "I am of the mindset that diversity and inclusion aren't just buzzwords. These are things that matter. I try to use my platform and PR connections to implement positive change."
Christie was recently chosen to moderate a town hall for citizens of Parramore, was appointed to Mayor Jerry Demings' Martin Luther King Jr. initiative, is on the Friends of the Library board of directors with the Orange County Library System and was recognized by Black Enterprise magazine as a 2019 Modern Man of Distinction – to name just a few of his accomplishments.
Last summer, Christie was selected by the Orange County Government's Citizen's Commission for Children to be its keynote speaker. He gave a virtual presentation on what local nonprofits can do to attract donors during the coronavirus.
Additionally, he wrote a piece for PR Daily on Women's History Month and what business leaders can learn from the notable women of U.S. history. He is also active with his church, Saint Mark AME Church.
In November, he was also selected by the Orlando Business Journal as a 40 Under 40 recipient.
The Orlando Business Journal's 40 Under 40 awards honor Central Florida leaders in a variety of industries who are younger than 40 years old — the women and men who have played a key role in shaping our community.
Christie just accepted a position at &Barr, an award-winning full-service advertising agency in Orlando, as well, where he serves as the public relations supervisor on various client accounts and helps oversee PR strategies and tactics, along with corporate social responsibility.
In his free time, he loves to travel, is an avid reader and a big Star Wars fan. He just finished writing and illustrating a comic book about young African-American superheroes working together to stop a mad scientist and is targeting a 2021 release.
Christie is earning a master's degree in communication and is scheduled to graduate this May. Additionally, he earned a graduate certificate in corporate communication from UCF in 2018. He studied journalism as an undergraduate at Florida A&M University and earned a bachelor's degree in journalism.
Much of what he has learned and applied has come from Professor Jennifer Sandoval, Ph.D., who was his professor twice and is currently serving on the committee for Christie's applied project.
His project examines the diversity, equity and inclusion (DEI) plans of different media companies and provides recommendations based upon scholarly research.
"I have honestly learned so much about diversity, equity and inclusion in her class," said Christie. "While I love public relations and have been blessed to make a career out of it, I feel that a career switch is on the horizon for me. I see myself moving into DEI and using some of the things that I've learned in Dr. Sandoval's class. She's had a positive impact on me. I am very grateful to know her."
Sandoval wrote his recommendation letter for the "Graduate Student of the Year" category.
"Jaylen has been a joy to know on his graduate school journey," said Sandoval. "He has an incredible amount of passion for diversity and inclusion work, and I have no doubt he will have great impact in his field and beyond."
The full list of awards and finalists can be found here.
Published April 1, 2021. Written by Iulia Popescu.
If you have any news, accomplishments or highlights about your work or life, please be sure to share them with us, by emailing us at nicholsonews@ucf.edu.