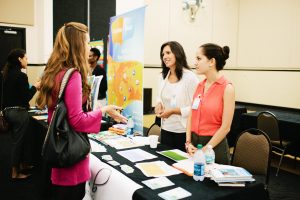 Many students dream of walking into a ballroom and being received by dozens of employers eager to listen to them, wanting to turn those conversations into interviews and potential internship offers. For Nicholson School of Communication and Media students this is a reality.
Every year Quotes, the PR Club at UCF, the Society of Professional Journalists at UCF and the Radio Television Digital News Association at UCF host Intern Pursuit, the largest biannual internship fair at UCF. The organizations hosted the event in October and it brought more than 80 companies to campus, giving students the opportunity to have one-on-one conversations with potential employers. Journalism majors get to meet the different employers in the morning, while the Ad/PR students meet in the afternoon.
Taylar Freitag, Quotes' president, has witnessed the potential of Intern Pursuit over the years.
"Seeing all the students eager to gain experience and the employers eager to make connections really makes Intern Pursuit an exciting event," Freitag said. "Intern Pursuit is fantastic for students who are just starting out and want to explore what they like, and maybe don't like to do."
Many tools are available to help students prepare for the event. Ad Club at UCF hosts a resume workshop, where professionals review the students' resumes and guide them to make them better. Quotes arranges a boot camp prior the internship fair, where students will get the full insight on how the event runs from a panel of professionals.
At Intern Pursuit students get opportunities to walk in and to see what it is like to work in agencies, corporate, government, nonprofits and media companies. It also helps students narrow their vision of what they want to do in the communication world. Caroline Herman, senior majoring in Ad/PR, obtained an internship by attending Intern Pursuit last spring and hopes to land a second one before graduating.
Through her internship experience, Herman found her niche in the Ad/PR world.
"By going through Intern Pursuit and meeting with different employers, I've been able to narrow down what interests me in the world of advertising and public relations," Herman said. "It's so exciting to meet with people who share your passion, have positions that you want and have so much they can teach you about the industry."
Lindsay Hudock, M.A., a NSCM Ad/PR instructor, former Florida Public Relations Association president and Quotes' advisor, is present during the event and admires how students express themselves to employers.
"I don't think it's ever been easier for students to find amazing internship opportunities and employers to find quality interns than it is at this event," Hudock said. "Interning is instrumental in transitioning from academia to the professional community, increasing student's access to those opportunities is a critical service that Quotes provides for the entire student body."
Quotes was established at UCF in 1981 as one of the first student chapters of FPRA. Since then, the PR club has helped students cultivate and explore their development in the field of communication. Alyssa Harrell, Ad/PR student and Quotes' director of events, has organized Intern Pursuit four times and knows how important/valuable this event is.
"Personally, I have greatly benefited from Intern Pursuit. So far, I have had three internships and I got all of them at the event," Harrell said. "Most of the students in Nicholson take advantage of this opportunity to search for an internship and it pays off. It is a great way to not only lock down an internship, but also to network with professionals in the community."
Intern Pursuit will return March 29, 2019, and Oct. 22, 2019. More information on Quotes and Intern Pursuit can be found on their website https://quotesucf.com/intern-pursuit/