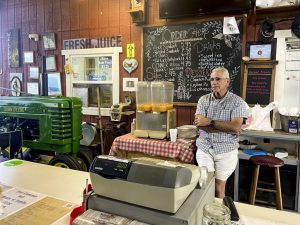 Journalism Student Marian Summerall
NPR Next Generation Radio
Spring 2023
Summerall has produced a story that will air throughout Florida on all NPR affiliates
Summerall's story talks about the challenges faced by a local, seasoned citrus farmer
---
A journalism student from the Nicholson School of Communication and Media are already airing some of their work statewide. Marian Summerall, a student working with Professor Rick Brunson on the NPR Next Generation Radio Florida Newsroom Project, produced a story in collaboration with her professor that landed her this exciting opportunity.  Summerall is representing UCF in the statewide venture, the story they produced about a fourth-generation Central Florida citrus grower. It will be aired on all 13 NPR affiliates throughout Florida.
In Summerall's story "Through Freezes and Diseases, Citrus Grower's Identity Springs from the Soil," Eddie White has seen urbanization and citrus disease which threatened the industry as well as his way of life. However, White honors his heritage by running his family grove in new and innovative ways. Despite the challenges faced such as the change from rural to urban communities, new manufacturing and housing developments, White continued to run his citrus farm.
Brunson expressed, "we are very excited about that and want to share the story with you. Special thanks to Jim McCulley for making the Broadcast Facility and its equipment available to us during a week campus was closed so we could work from the Media Lab and complete our work. Thank you!"
Read more about the story HERE.
By Majdulina Hamed.
Published to Nicholson News on February 2nd, 2023.
If you have any news, accomplishments or highlights about your work or life, please be sure to share them with us, by emailing us at NicholsonNews@ucf.edu.