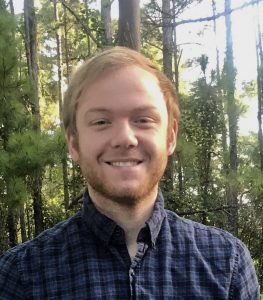 Nicholas Twardus, MFA in Feature Film Production graduate '19, and current visiting lecturer in the Nicholson School's Film program, has a deep fascination with film and nature.
Twardus' work in film, particularly playing with aspects of production within nature, has been heavily influenced by Carl Jung, who wrote extensively about the healing aspects of the wilderness.
"Jung stated that every leaf that made up a forest contributed to a collective unconsciousness that has therapeutic effects on humans who seek solitude within," Twardus said. "The progression of my film "Self-Portrait: Impermanence" represents my interaction with this concept and a journey into the unknown."
Twardus' film "Self-Portrait: Impermanence," along with "Legends of the Fabricated Wild" – now titled "The Fabricated Wild" – were both selected for showings at the University Film and Video Association (UFVA) conference.
The University Film and Video Association is an international organization where media production and writing meet history, theory and criticism. UFVA holds an annual conference and is one of the premier U.S. academic organizations dedicated to the study of media.
Twardus was accepted as a Graduate Fellow for the conference. The University Film and Video Association Graduate Student Fellowship provides financial support for some of those attending the annual UFVA conference.
"Here [at UCF], I received a formal education in filmmaking technique, which opened my perspective to many modalities and methods of film production," Twardus said. "I worked with a tremendous faculty and student body to develop a feature-length body of work of experimental landscape films for the completion of my thesis work. 'Self-Portrait: Impermanence' and 'The Fabricated Wild' were two films from this body of work."
Twardus instructs students on the mechanics of analog film and stresses the importance of light to the creation of a film image at UCF. "Self-Portrait: Impermanence" is the first of Twardus' films to fundamentally embrace that interaction.
"Self-Portrait: Impermanence" is a short experimental film examining impermanence within the natural Florida landscape. Images foregrounding human interaction within the Florida wilderness are juxtaposed with abstract sections of rapid movement.
"The Fabricated Wild" explores the intersections between the natural and artificial within the Florida wilderness using personal film-making technology. The natural Florida landscape is foregrounded in the frame and communicates how cinema fabricates the expansive wilderness.
This film frames the complex interaction between a frustrated filmmaker and the collective unconsciousness of the natural environment, a theory outlined by Carl Jung himself, considering the implications and discoveries along the way.
The University of Film and Video Showcase was held at Augsburg University in Minneapolis, Minnesota. Twardus said that presenting "Self-Portrait: Impermanence" and "The Fabricated Wild" at the conference was an especially gratifying moment.
"It was really a wonderful opportunity to present my work in a new environment as well as attend a conference focused on filmmaking in higher education," said Twardus. "I attended a great deal of panels, presentations, film screenings and workshops that helped re-energize my interest in filmmaking. I even developed a lasting connection with a small caucus of narrative, documentary and experimental landscape filmmakers interested in making films about the natural environment. I am very grateful to the UFVA and Nicholson School of Communication and Media for this."
Twardus has recently finished "The Fabricated Wild" and has begun submitting it to film festivals. With the conclusion of this work, Twardus is about to begin editing an observational landscape film called "Lonely City," which is a working title, featuring footage of Central Park and the Brooklyn Bridge composed in the vein of Peter Hutton's experimental films. Twardus is ecstatic to begin work on this project!
"I will also be presenting on a panel centered on environmental storytelling at the 2020 UFVA virtual conference this July with a few members of the environmental caucus that I mentioned earlier," said Twardus. "My specific presentation is called 'Alternative Aesthetics of the Natural Landscape.'"
Twardus' films can be viewed on Vimeo.
Published July 1, 2020. Written by Iulia Popescu.
If you have any news, accomplishments or highlights about your work or life, please be sure to share them with us, by emailing us at nicholsonews@ucf.edu.