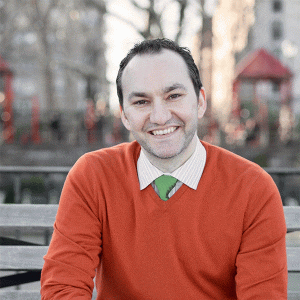 The July spotlight has fallen on David Negrin, visiting instructor in the Games and Interactive Media (GaIM) program. As a game designer, screenwriter, immersive theater director, arts non-profit founder and also host of his very own podcast, he has a multitude of talents and experience in the arts and technology.
Negrin holds a Bachelor of Science degree in Computer Science and a Master of Fine Arts degree in Cinema Arts. He was born and raised in New York City, an alumnus of The Bronx High School of Science, University at Buffalo and Brooklyn College – a product of the public school system. Negrin was previously assistant professor of emerging media, film and television at Ithaca College, in New York.
His latest project under development is "Wellness Hero," a video game that is designed to simulate depression, teach coping skills and spread awareness for mental health issues.
"I'm most interested in storytelling," said Negrin. "The thing all of my areas of my projects and research have in common is the craft of storytelling. Stories are the most powerful form of communication, the most powerful way we can gain empathy for others and the original art at the center of the film, gaming and media industries."
Negrin emphasizes that reconciling and analyzing how we work on our art, and analyzing our creative process is essential to becoming a produced and working artist. He mentions how we should examine how other art forms, other artists, as well as our own lived experiences influences the stories we want to tell.
"We are first and foremost influenced by our own traumas and triumphs," said Negrin. "But we are also influenced by the art we absorb in our lives. Visions from artists in every medium. The work that speaks to us, that disappoints us, that disturbs us, feels familiar to us, that astounds us. Art from outside our own discipline can be some of our greatest teachers."
From 2007-2015, Negrin was the executive director of the NYC Screenwriters Collective (NYCSC), the largest non-profit screenwriting workshop in New York City. His organization freed the craft of screenwriting from Hollywood gatekeepers and made it accessible to all. The NYCSC subsidized professional screenwriting workshops to the diverse community of NYC independent filmmakers, made script development services free for all authors, offered free editing services for learning disabled writers and free translation services for ESL screenwriters.
"Diversity in content, creators and educators of film, television and emerging media is good for the art forms, it's good for our industries and it's good for our students' educational outcomes," said Negrin. "As an artist, it is part of my vision to contribute to diversity, equity, and inclusion with the content that I create, with my work practices, and with the collaborators I choose. As an educator, it is my responsibility to produce a vibrantly equitable, inclusive and diverse learning environment for all the students in my classroom."
Negrin's creative projects and areas of research are in virtual reality, game design, transmedia storytelling and immersive theater. He is author of the Strategic newsletter and host of "The Script Podcast."
"The evolution of storytelling through the ages has revealed new narrative tools and techniques with every technological advance," said Negrin. "The earliest innovations in filmmaking unleashed our traditional 5 senses one by one: film brought to our eye the moving image, the cut, the close up; sound brought to our ears narration, the art of dialog and sound effects; technicolor freed our stories from the restrictions of black and white; IMAX and 3D were our first attempts at immersive filmmaking; and video games, incorporating our sense of touch, introduced the vast potential of interactivity. Virtual reality technologies have been maturing for years but their toolsets for storytelling are just now being uncovered. These new tools in immersive storytelling will advance our abilities to touch the human soul."
When asked about his move to UCF and the Nicholson School, Negrin said he was looking for a faculty and student body that elevated Games and Interactive Media to the art form it deserves to be. He wanted to join a program that prepares its students with the most marketable skill sets and ability to harness their creative instincts. Negrin is honored to be a part of an institution who is actively working to make a more diverse, equitable and inclusive future in media and technology.
Published July 1, 2021. Written by Iulia Popescu.
If you have any news, accomplishments or highlights about your work or life, please be sure to share them with us, by emailing us at nicholsonews@ucf.edu.