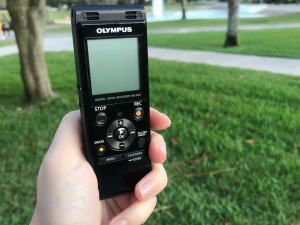 Knightly Latino is an outlet for journalism students who speak Spanish and for those interested in the Latinx media market.
Students write, produce and deliver stories of interest to the central Florida Latinx community. News coverage ranges from cultural to immigration and political stories.
By covering these topics, Knightly Latino student journalists serve the UCF's Latinx student population.
"We are very fortunate to offer a course here at NSCM that allows all of our students to experience internationalization in the classroom despite the current challenges related to traveling," said Katidia Coronado, associate instructor of journalism, radio-TV and Hispanic media. "Our communication students continue to work with students abroad, and our doors remain open to students from any country interested in learning about how we teach journalism and media in the United States."
Meet one of the students who was involved with Knightly Latino – journalism major Patricia Simon.
Simon, an exchange student from the semester of Spring 2020, had to return home to Spain when the pandemic spread while she was studying at UCF. However, she continued her work and created a podcast for Knightly Latino all the way from Spain.
Although her time on campus was cut short, she is considering returning to UCF when it is safer to travel and after she graduates from her home university, Universidad San Jorge.
"Studying abroad at UCF was one of the best experiences of my life so I would like to return to UCF after I graduate, maybe to receive my master's," Simon said. "I'm a very curious person and I'm interested in politics, economy, fashion and I really like breaking news; but I'm not sure what I would like to study for my master's yet. One of my dreams is to return to Florida and do internships in a Hispanic media outlet."
Listen to this special Knightly podcast made by Simon all the way from Spain to learn how Latin countries including Brazil, Spain and others are dealing with Coronavirus and more about the UCF Latinx community. Click here for the Spanish version and here for the English version.
Published October 1, 2020. Written by Iulia Popescu.
If you have any news, accomplishments or highlights about your work or life, please be sure to share them with us, by emailing us at nicholsonews@ucf.edu.