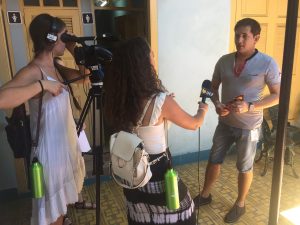 A unique study abroad trip brought students from the University of Central Florida and the University of Cienfuegos together to produce a group project and a two-way learning multicultural experience.
Back in 2016, administrators and faculty members of the University of Cienfuegos, located in Cienfuegos, Cuba, contacted the legacy Nicholson School of Communication looking to build partnership.  Broadcast journalism instructor Katie Coronado and lecturer Erica Kight, Ph.D., took this opportunity to travel to Cuba and see what it had to offer NSCM students.
"When we traveled to Cuba, Dr. Kight and I saw opportunities for both growth and change," said Coronado, who teaches the Knightly Latino course. "Taking students to Cuba would give them a high-impact academic experience."
This is the first time University of Cienfuegos students worked hands-on with American students, producing together two 30-minute shows in English and Spanish. UCF students taught the Cuban students how to use camera equipment and journalistic skills and in return, the Cuban students taught the U.S. residents about the island and their culture.
"It was a high-intensity project and an amazing experience," said Christina Diaz, electronic journalism student and Knightly Latino's executive producer. "I'm looking forward to the next time I can go back to the island."
The Knightly Latino class, which is made up of students from diverse backgrounds, was divided into three teams: the promotional team, led by radio-television professor Stephanie Rice, the Spanish team and the English team, led by Coronado and Kight.
The promotional team was in charge of creating marketing material to promote the study abroad trip and create interest in future students, while the other two team worked on the lengthier shows. The promo team produced three short films, which focused on the interaction between the American and Cuban students; on the out-of-the-classroom experience Knightly Latino provided NSCM students; and on Partners of America.
Partners of the Americas, a non-profit organization focused on helping and linking communities, granted Coronado and Kight the Marlene M. Johnson Innovation Fund Award of $25,000. With this grant, nine students had the opportunity to go to Cuba on full scholarship and two on partial scholarship.
"The study abroad trip to Cuba was life changing for faculty and students!" Rice said. "We worked really hard on our projects that took us to see amazing places and meet interesting hard working people."
Coronado and Kight wish to continue doing study abroad trips to Cuba while also expanding to other locations around Latin America, including Puerto Rico.
"When you're an academic, it's your duty to open the eyes and the hearts of your students – the future of our country – by exposing them to the reality that exists outside of the United States," Coronado said. "I encourage study abroad to Cuba [specifically because we are so close, because of the political climate and] because I believe in change through building bridges."
Students interested in being a part of the Knightly Latino team can enroll in JOU 3951 Knightly Latino for the spring semester.