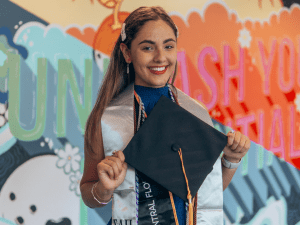 For many Knights, Florida has always been home, but for Marielena Lozada, '21, that was not always the case.
Lozada moved to Orlando from Puerto Rico after earning an associates degree from the University of Puerto Rico. Faced with the challenge of starting college at a brand-new school without knowing anyone or anything about Orlando, the transition was hard.
"I missed my family," she said, but the human communication major decided to make the most of her time while a student at UCF Downtown, eating at local Orlando restaurants, going to Lake Eola to ride swan boats, taking photos of the murals around the area and heading to the cinema at Plaza Cafe after classes.
She also joined several clubs and organizations including Downtown Student Life, National Communication Association, Puerto Rico Student Association and National Society of Leadership and Success.
While serving as the downtown program coordinator for Downtown Student Life, Lozada was responsible for planning events for students to attend in downtown Orlando. She signed up for the DowntownOrlando.com newsletter that announced shows, special events and other happenings so she could stay up to date.
Now, Lozada is writing the downtown Orlando newsletters. After earning her bachelor's degree in human communication in Summer 2021, she received a job as the marketing and communications intern at the Downtown Development Board for the City of Orlando.
The Downtown Development Board is responsible for the planning and administration of the city's core area redevelopment and development program. Her previous role on campus helped prepare her for working downtown.
"I learned about downtown Orlando, and it got me out of my comfort zone all the time," said Lozada. "Most of all, I learned many technical skills, presentation skills, event coordination skills, marketing and content creation skills and organizational skills. All of these skills are requirements for succeeding at this internship."
Lozada now believes that Orlando doesn't feel so foreign anymore and plans to stay in the City Beautiful.
"Thanks to UCF, I got to know Orlando as a whole but downtown Orlando is where it feels like home because it's where I started to get out there and out of my comfort zone since I moved," she said. "It's where I started exploring the city's culture and history and where I started hanging out as well. It's where I was studying and finally where I got my internship!"
She encourages other students who may be apprehensive about applying for jobs or internships to "get out of your comfort zone and just apply for it – even if you don't think you'll get it."
When Lozada isn't working in her internship, she is most likely going to the beach, spending time with her family, taking photographs and taking her dog on walks!
Check out the Nicholson School of Communication and Media webpage and Handshake for more information about internship opportunities.
This article was previously published here.
Published to Nicholson News on November 1, 2021. Edited by Iulia Popescu.
If you have any news, accomplishments or highlights about your work or life, please be sure to share them with us, by emailing us at nicholsonews@ucf.edu.