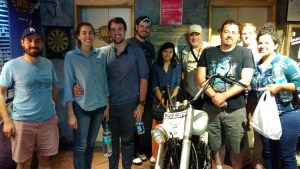 Lady bikers, street dogs and visceral sights and sounds from a city nearly 10,000 miles away are showcased in new documentaries completed by Nicholson School of Communication and Media film students while they spent a few weeks in Kolkata, India.
The documentaries made their debut on Nov. 15, at the Burnett Honors College as part of International Education Week. Film students from NSCM and the iLEAD Institute, a media and management college in Kolkata, produced the films as part of a summer project.
The UCF students were paired with iLEAD students, split into three teams and tasked with selecting a topic, filming it and delivering a rough cut within three weeks in busy Kolkata – formerly Calcutta – where they faced extreme heat and the beginning of the summer monsoon season. On top of that, the Indian students and UCF students had never met before.
"I'm very proud of the students' total commitment to the project," said Phil Peters, NSCM film professor. "I'm a real believer in the internationalization of students. I feel that you need to immerse students into other cultures, and the best way to immerse is to get them out of the tourist situation."
Peters' instructions to the students were to explore an idea, keep the idea small, but investigate it deeply.
UCF students Sarah Holland and Ramsey Khawaja produced "Lady Bikers of Kolkata" with concept development from iLEAD students Jai Prakash Jha and Subham Chatterjee.
During the brainstorming process, Holland asked her Indian teammates about interesting events, groups or movements in Kolkata. When they mentioned motorcyclists, she asked if some were female.
"One of our teammates called up his male biker friends," Holland said. "And through them, we were able to contact with these female bikers and discover that there are more of them than any of us anticipated. Even our Indian teammates had no idea that there was this movement in their own city."
The experience helped Holland become more flexible and get out of her comfort zone as well as to get to know the culture on a deeper level than if she had been a tourist just passing through.
"I got to know all of these amazing women, which would have never happened if I had not gone with UCF and Phil Peters," Holland said.
The students who created "Street Dogs of Kolkata" were Carina Viegas, Sam Schiffer, Raj Dey and Susoban Roy.
Alan De Oliveira and Hannah Mitchell teamed up with Ahuti Sharma and Rono Deep for the short film "Kolkata Calcutta."
The project was sponsored by UCF's College of Arts and Humanities, the Texts and Technology Ph.D. program, UCF Global, Florida Interactive Entertainment Academy, UCF India Center, Office of Undergraduate Research, School of Visual Arts and Design, Burnett Honors College, Nicholson School of Communication and Media, and the UCF Office of Research.
The three films are available at the links listed down below.