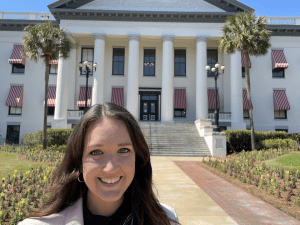 For Nicholson School of Communication and Media student, Kayla Rau, a number of opportunities have presented themselves since her completion of the Legislative Scholars internship in Tallahassee.
The Legislative Scholars, which the University of Central Florida (UCF) established in 2005, gives students insight into the workings of the Florida Legislature.
Kayla Rau, a transfer student who was admitted in to the Advertising and Public Relations (Ad/PR) program in Fall 2020, worked for representatives Scott Plakon and David Smith, both in Seminole county.
During her time as a Legislative Scholar, Rau attended government meetings and events in the district, helped constituents with unemployment issues and networked with elected state officials in Tallahassee.
Additionally, she not only attended a meeting with Florida's Attorney General Ashley Moody, but she also bumped into Florida governor – Ron DeSantis – at a local coffee shop.
"Tallahassee was full of many wonderful surprises, and I had so much fun exploring the city and learning alongside my fellow interns," said Rau.
Soon after, Rau landed a job here at UCF, where she serves as Senior Student Assistant in the Office of the President. Rau is now leading a small team of students through projects and tasks designed to assist the executive team and staff of President Alexander N. Cartwright, Ph.D. She is also assisting the social media team in recruiting for the 2021-2022 Legislative Scholars Program for students.
"I would highly recommend students who want to professionally develop themselves apply," Rau said. "The program has opened doors for me and many others. Being able to learn from and talk to the lawmakers of Florida is not an opportunity that comes by every day. Take advantage of it!"
Another Nicholson School student, Jessica Siles, was also accepted into the program and completed her time as a Legislative Scholars intern.
Interested in the program? Kayla Rau will be going live on the Legislative Scholars Instagram account to host a Q&A for students interested in the program. Applications for the Legislative Scholars Internship close September 19, 2021.
To apply or attend informational meetings, go onto the Handshake website or app for more information.
Published September 1, 2021. Written by Jacqueline Cardentey. Edited by Iulia Popescu.
If you have any news, accomplishments or highlights about your work or life, please be sure to share them with us, by emailing us at nicholsonews@ucf.edu.