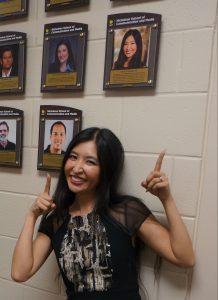 Only 34 individuals have received the illustrious NSCM Hall of Fame honor thus far. Gloria LeQuang, Ad/PR '97, is the latest to be added to the list. Her extensive experience ranges from marketing and economics, to planning and advertising.
Nicholson's Hall of Fame was created in 2000 to recognize individuals with an admirable record of excellence in their careers and of service or commitment to NSCM.
Previous NSCM Hall of Fame alumni include people like Shark Tank's executive producer, Clay Newbill, and Donna Mirus Bates, the senior vice president of marketing communication and content development for Universal Orlando Resort.
"I look at the list of past inductees and am so humbled to even be considered a part of this amazing group of folks," LeQuang said. "Thank you to UCF, the Nicholson School of Communication & Media and the Advisory Board."
LeQuang has certainly earned her spot amongst the top – she has focused her career on advancing the competitive advantage of the region and the companies where she has worked, she was honored as one of "Orlando Business Journal's Women Who Mean Business" and she was a recipient of the College of Sciences' Distinguished Alumni award, to simply name a few of her accomplishments.
On LeQuang's Hall of Fame plaque, she noted: "UCF has given me a strong foundation for continued learning and problem solving. My experience and education at UCF have been constant companions throughout my career, driving me to work harder and take on new challenges with courage and confidence. I am proud to be an AlumKnight and part of the Nicholson School of Communication & Media Hall of Fame."
LeQuang's main word of advice is to say "yes" to opportunities, no matter how intimidating.
"Often saying 'yes' means taking on more responsibility but if you want to grow as an individual, build a reputation amongst your peers and forge a career that is long-lasting and rewarding, it's important to keep challenging yourself," stated LeQuang.
With more than 20 years of experience in marketing and economic development – including project management, foreign direct investment, diplomatic relations, export counseling, event planning and market research – LeQuang's qualifications positioned her perfectly to take the lead as the director of marketing and community relations for BRIDG.
BRIDG is a not-for-profit, public-private partnership for advanced sensors and next-generation nanoscale systems located in Osceola County, FL.
"Although the vast and diverse amount of projects and responsibilities that reside in my role can be quite overwhelming, especially when working with an organization built from the ground up, there is a village of support from a community that elevates one another, and together, success is possible." LeQuang also spoke about the support she feels from UCF. "Trust in the foundation that your UCF education provided. It will guide you, as it has for me."
This article was written by Iulia Popescu.