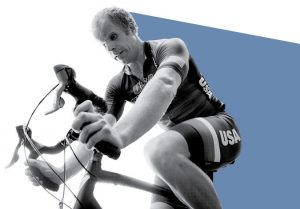 At 7:30 a.m. every weekday, Kyle Coon '13 begins his first of potentially four workouts for the day — a 4,000-meter swim. Next, he'll run or bike for 90 minutes. And then, depending on the day, he'll push through some more cardio and strength and conditioning sessions. On weekends, he'll complete one workout each day, either a long run or bike ride outdoors.
He's followed the same routine without stop since January, when he became a resident at the Olympic Training Center in Colorado Springs, Colorado. Although the demands are high, Coon, a triathlete, knows they're necessary to accomplish his goal of qualifying for the 2020 Paralympics in Tokyo.
"It's an honor and privilege to be here at a facility where some of the greatest Olympic athletes have trained," says Coon. "They only invite athletes that they think have a chance of making it to the Olympics or Paralympics, so it means a lot to me to be here."
In order to make it to the 2020 Paralympics, Coon must put forth his best efforts in as many high-profile races as possible during a yearlong qualification period, which started June 28.
Only one visually impaired man and woman who earn the highest rankings by the International Triathlon Union's standards will represent Team USA. This feat will require consistently high levels of athletic performance, but pushing himself to the edge of his capabilities has always come naturally for Coon.
At 10 months old, Coon was diagnosed with bilateral sporadic retinoblastoma, the most common form of eye cancer for children. By the time he turned 7, both of his eyes had been surgically removed. When his eyes were removed, he wondered if he would be able to resume his usual activities and how he would simply function in everyday life.
But shortly after, Coon's father introduced him to Erik Weihenmayer, a blind extreme athlete who lists downhill skiing, skydiving and being the first blind person to summit Mount Everest among his accomplishments. It was the first time Coon met an adult who was blind, providing him an idea of what was possible for his own life. Weihenmayer encouraged Coon to envision life without limits and suggested he try rock climbing. Coon's parents encouraged his desire to reach new heights.
In time, Coon developed enough skill to complete his first half and full Ironman races in 2016. Since then, he's gone on to complete 18 triathlons. And in 2018, he set the record for the first blind person to complete an Ironman in under 11 hours — more than 90 minutes faster than the average time it takes a sighted competitor to complete the race.
For now, Coon's own sense of motivation and dedication is stronger than ever as he continues to step up his training and compete against the toughest opponents he's ever had to face in increasingly high-profile races. With each workout and race completed, he's focused on 2020. But if he doesn't make it, he'll push himself harder to make it to the 2024 Paralympic race.
"I just love a challenge," Coon says. "I love pushing my mind and body to find the edge of my ability. I like seeing how much further I can push beyond my limits to improve."
Read the entire article, originally published here in Pegasus, the UCF magazine.