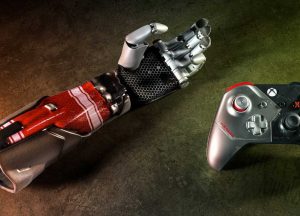 Two Nicholson graduates say their college experience would not have been complete without the time spent at Limbitless Solutions, a UCF-based engineering innovation company that makes bionic arms for children.
They both say the same thing: Limbitless Solutions changed their lives and have prepared them for the work world.
The company, which three then-UCF students created in 2014, started out with one goal — to create a bionic limb to help a local child who was missing his arm.
Limbitless has grown into a company that has more than 30 students learning and working at its lab on the main campus. It has developed new bionic arms for children that are in clinical trials.
The company is now working with various groups to develop adult arms and other technology aimed at helping veterans and first responders.
During the pandemic, Limbitless pivoted and created materials to help healthcare providers stay safe. Throughout it all, the company involves students at a fundamental level.
"Helping students learn to solve problems and work together has been part of our core mission," said CEO, co-founder and alumnus Albert Manero, Ph.D.
Manero, who has three degrees from UCF, is looking forward to seeing many of the Limbitless Solutions interns walk across the stage.
"It's an honor to be speaking to this group of graduates," Manero said. "In our lab, this group of seniors has been an amazing one to work with. I cannot wait to see how they will use their skills and compassion to change the world. They embrace working together to solve problems. We need more of that."
Christian Orellana, who majored in digital media, worked quickly to program a full video game that will serve as the training game for Project Xavier, similar to the bionic arm's gamified training but for individuals who use wheelchairs.
This project was awarded the Pabst Steinmetz Foundation Wellness Innovation Award, with associate professors Matt Dombrowski and Peter Smith, Ph.D.
Emily Hoang, who also majored in digital media, only discovered Limbitless Solution this past semester before she graduated. She sketched different bionic arm designs and then modeled it in a 3D software program to get the designs closer to a prototype.
She plans to use the modeling and design skills she has learned to create 3D-printed wheelchairs for tortoises with leg injuries in the future.
Learn more about all the great work that Limbitless is doing by visiting its website.
Modified by Iulia Popescu and published to Nicholson News on June 1, 2021. Originally written by Zenaida Gonzalez Kotala for UCF Today. Photo courtesy of Xbox and UCF Today.