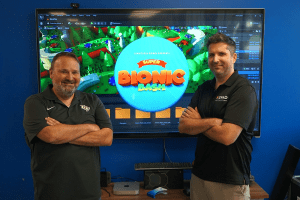 Two Nicholson School of Communication and Media faculty members and the nonprofit Limbitless Solutions received an Epic MegaGrant from Epic Games to develop training games for people with prosthetic limbs.
UCF Associate Professors Dr. Peter Smith and Matt Dombrowski take the lead at Limbitless Solutions for the initiative "Project Inventor: Bionic Training Games for Children with Limb Differences." Their games aim to train users to become more proficient using their bionic arms while engaging in an enjoyable experience. Super Bionic Bash for example, is a party-style, multiplayer game that lets users train while playing games with friends and family, which adds an additional layer of engagement and enjoyment.
To learn more about this exciting project and the grant moving it forward, check out the full article published on UCF Today.
By Ryan Fox.
Published to Nicholson News on October 6th, 2023.
If you have any news, accomplishments or highlights about your work or life, please be sure to share them with us, by emailing us at NicholsonNews@ucf.edu.