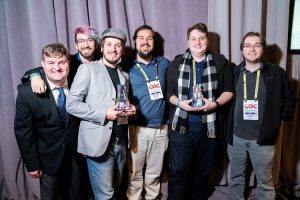 Motor Rockwell, a lone robot sheriff maneuvering with only one arm, searches for the bandit clan responsible for stealing his other limb through a treacherous mining town. This is the world of FIEA student game, "Long Arm of the Law."
Jake Khosrowzadeh, Marchand Venter, Erian Vazquez and Rohan Rao worked alongside 14 other students to create "Long Arm of the Law" under Tom Carbone, their faculty advisor. Creating a game is a part of their master's thesis at the Florida Interactive Entertainment Academy (FIEA).
FIEA was recently named the No. 5 graduate game development program in the world by the Princeton Review in 2019. Students in the program spend about seven months creating games for their capstone projects.
"It was the first time I had been a part of and helped lead such a big team (18 students total) and I learned not only technical skills but people skills," said Vazquez, who was lead programmer. "Making a game is very difficult and the game was constantly changing. Seven months seems like a lot of time, but in reality, it isn't."
At the recent Intel University Showcase, held in San Francisco in March, student games were featured from around the globe. This is the sixth year Intel sponsored the showcase, which coincides with the Game Developers Conference – the largest conference in the world for video-game developers.
Student games competed in three categories: "Most Innovative," "Best Gameplay" and "Best Visual Quality." New York University and the University of Central Florida took home more than half of the prizes.
"Long Arm of the Law" won second place in two categories – Best Visual Quality and Best Game Play – out of the 18 universities competing.
For winning two second-place awards, Intel donated $10,000 worth of equipment to FIEA.
Khosrowzadeh, the team lead, and Vazquez, gave a five-minute game demo of "Long Arm of the Law" at the showcase. In the game, the player controls the sheriff bot, Motor Rockwell, and his extendable arm that grapples, pole-vaults and slings through town.
To view a trailer of the game, click here and to see a short interview with Khosrowzadeh on its creation, click here.
In the interview, Khosrowzadeh humorously mentioned that the idea for the game originated from a Led Zeppelin song.
"When we first broke up into teams, we started off with just the five leads and I got lunch with our lead designer. In the restaurant we were at, there was a Led Zeppelin song playing and he heard it and said, 'I want to make a game for this song.' He wanted to go for that cowboy aesthetic and it stuck with the team," Khosrowzadeh explained, laughing.
The double award-winning game "Long Arm of the Law" is now available for free on Steam. Play today and help Motor Rockwell get his justice!
This article was written by Iulia Popescu.