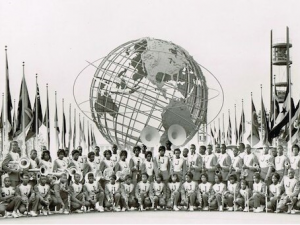 "Marching Forward" shows the history that revolved around two dedicated high school band directors – James Wilson, the African-American educator at Jones High School who founded the Marching Tiger Band, and Delbert Kieffner, the white bandleader at Edgewater High School – who were inspired by music to work together and cross color lines in 1964.
The film airs at 9 p.m. on February 2, 5 p.m. on February 4 and 3 p.m. on February 7 on WUCF TV.
The 60-minute documentary began as a project in the Honors Advanced Documentary Workshop at the University of Central Florida (UCF).
Co-taught by Robert Cassanello and Lisa Mills, both associate professors for UCF and "Marching Forward" co-directors, the class sought to create a documentary about an unknown part of Florida history that is relevant today.
"I happen to be a marching band nerd," Mills said. "I was in band, orchestra and chorus in high school and originally wanted to be a music major. And so, anything having to do with marching band, I am all in for that."
In their research, the students discovered that Edgewater High was first invited to the World's Fair, and through their friendship, Kieffner and Wilson secured an invitation for Jones High.
However, the fundraising was up to the students from both schools, so they decided to join forces.
"That was done with sales and car washes. And we sold everything in my band uniform," said Noel Woolley, a member of Edgewater High School's 1964 marching band. "My neighbors would see me coming and pull the curtains; they couldn't buy anything else. We sold light bulbs. We sold toothpaste, toothbrushes; we sold candy bars."
Lynn Lockhart, one of Kieffner's daughters, spoke on the importance of the efforts of her father and his friend Wilson.
"My dad invested in his students and their lives, not just in their classwork, but in the wholeness of their life. I think that the music departments and the arts really take education to a whole different level," she said. "I would hope that [viewers] would see that teachers can impact lives in such dramatic ways."
Like Lockhart, Mills wants viewers to see that the everyday acts of educators influence young minds.
"They can help young people understand the importance of community, unity, respecting each other, even going so far as loving one another and supporting one another, especially when that can have a big effect on the community at large," she said. "If we could all come together now, just imagine what the effect would be."
In addition to spotlighting this moment in 1964, the UCF class additionally uncovered more about Wilson's role as a civil rights leader.
"We learned through research Chief was very civil rights-conscious, and he believed his civil rights activism was in his everyday actions," Cassanello said. "It was him being this master teacher, him being a mentor to these students, him being an ambassador to the local white community in a variety of ways under the guise of this bandleader. And he opened all these doors consciously… He really had intent in trying to create a better world for the people coming up under him."
Cassanello also emphasized that society needs to continue to work on issues of race.
"I think it would be unfortunate if people watch this film and thought, 'Look, racism is over.' I think that's not the message of the film," he said.
Instead, "Marching Forward" aims to be a learning experience.
"Marching Forward" has won several accolades at film festivals across the U.S. as well as a Best of Show award at the 2019 Broadcast Educators Association's Festival of Media Arts.
This article was originally published by the Orlando Sentinel. Photos courtesy of Lisa Mills and Orange County Regional History Center.
Published to Nicholson News on February 1, 2021.