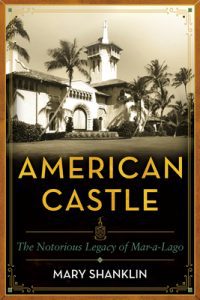 Writing and publishing a book for some is a dream. Visiting Instructor at the Nicholson School of Communication and Media, Mary Shanklin, made this dream a reality. In an interview, Shanklin talks about her newly published book, her inspiration and what she learned while writing her book.

What is the book about?
"American Castle: The Notorious Legacy of Mar-a-Lago (Diversion Books Inc. New York, NY) shines a light on the estate owned by former President Donald Trump. The oceanfront mansion has survived almost a century of hurricanes, financial collapses, and redevelopment plans by Trump and others.
World renown now, Mar-a-Lago earlier languished as a cast-off. The National Park Service owned it for a decade before it suffered the rare humiliation of being delisted. Popular opinion holds it cost too much to maintain. In reality, Palm Beach officials lobbied Congress to spare them from having a national park in their midst.
After Trump's bargain purchase a quarter century ago, the once-public property became an exclusive club for members and an unofficial back door to the White House. Just as the limelight on it should have dimmed, the FBI carted off dozens and dozens of boxes with classified documents just last year."

What inspired you to write this book? And have you published before?
"In 2018, I happened upon a National Park Service forum with comments about this little-known back story of Mar-a-Lago, which had just become the so-called winter White House.
Commenters noted that Mar-a-Lago was once part of the park service but, sadly, was delisted due to political pressures. One commenter referenced an out-of-print book – Our National Park System by former NPS chief Dwight Rettie. I ordered the book from Ebay or Amazon and, when I read the detailed case Rettie laid out, I just became fascinated."
What did you learn when writing the book?
"I learned how an exclusive island town and politicians could conspire against Americans by robbing them of "a national treasure," as national landmark specialists called it. More importantly, I learned that Mar-a-Lago's current owner signed an easement granting a few, select members of the general public – people who wouldn't otherwise be allowed there – access once a year. Mar-a-Lago Day hasn't happened. The National Trust for Historic Places said the idea is met in other ways."
How long did it take you to write this book?
"Reading Rettie's book plunged me down a rabbit hole that lasted more than four years. I lost my writing momentum during the pandemic but resurrected it with the help of two neighbors, who help me stay on task. Most of the rest of the people in my life excel in distracting me."
What are some things you are working on for the future (goals, more books, etc.)?
"My publishing agent knows I am kind of a research junkie, and he has suggested an interesting idea for a book that intersects with the 2023 presidential election and ties to Florida. It would have to be a pretty fast turnaround, so we'll see."
By Majdulina Hamed.
Published to Nicholson News on March 2nd, 2023.
If you have any news, accomplishments or highlights about your work or life, please be sure to share them with us, by emailing us at NicholsonNews@ucf.edu.