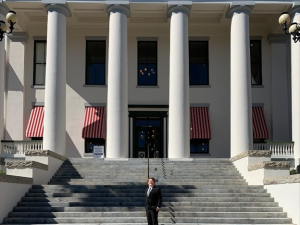 Trevor Manuel, a social science major with minors in cultural anthropology, mass media and political science represented the Nicholson School of Communication and Media during the prestigious Legislative Scholars internship program in Tallahassee this spring.
Putting on his best suit and carrying around the large reputation of UCF students' previous successful years of the internship, he made his way towards the Florida State Capitol. Part of the internship program gave him and others the opportunity to network with elected officials.
"Networking events were extremely common and being in my position of intergovernmental relations for Orange County, we met with many of the Orange County officials during office hours to discuss our policy positions," said Manuel. "I will say that any conversation with Rep. Carlos Smith was going to be a fun one. He and Anna Eskamani love UCF and were always willing to talk to any of the scholars while we were in Tallahassee."
During the internship program, participants were funded to stay in student apartments. There, Manuel was housed with a roommate who would also end up becoming one of his best friends. The overall experience that he gained was priceless.
"I have always felt drawn to the political field, so it was a no-brainer for me to apply when I saw the opportunity," said Manuel. "I was extremely proud and honored to represent UCF at the Capitol. I discovered in college that I was fascinated by anything surrounding the way people think. That is why I went into social sciences because it allowed me to explore multiple fields of social science instead of having to choose one avenue of academia. I have been extremely privileged to be a part of our 19-member class to attend the session this year."
Manuel is expected to graduate in August. While at UCF, he has been a Dean's List student for every semester, and is looking forward to a career in advocacy or lobbying.
Published April 1, 2022. Written by Iulia Popescu.
If you have any news, accomplishments or highlights about your work or life, please be sure to share them with us, by emailing us at nicholsonews@ucf.edu.