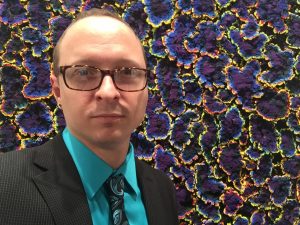 Visitors walking through the UCF Art Gallery see a pile of white accumulated on the floor, resembling packing foam. On closer inspection, the white pieces are revealed to be plaster cast bullets being dispensed from a tall white sculpture.
These bullets are a visualization of homicides due to gun violence across the United States. They serve as a representation of how many people had been killed by gun violence at the time of its creation. In 2016, when this sculpture was created, the number of people killed by gun violence was more than 15,000.
The gun violence piece is fully titled, "Sentinel: Watching salt filled air push ships across the horizon, I see myself in you." It was part of the Resilience: Remembering Pulse exhibition.
Boston native Matthew Mosher is the one who created this latest "Sentinel," of which there are four in total so far. He is a Fulbright Scholar and assistant professor of digital media in the Nicholson School, who creates intermedia artwork, often putting together meaningful pieces that he hopes will facilitate constructive dialog.
"Conceptually, my work examines current political issues, interpersonal relationships and the role of technology in each," Mosher said. "In doing so, my work enables people to explore their relationships to art and other members of society. My goal is to promote dialogue and empower people to see the world from a different perspective through art."
Mosher's first "Sentinel" comprised of a yellow pole and search lights. Using live data from dronstre.am, the search lights turn on whenever the United States performs a drone strike in the Middle East. The lights then remain on for one minute per life slain during the operation, illuminating and visualizing what most U.S. citizens do not see.
"I have been working with aesthetics and politics since 2006," he said. "These works are important because they make visible the actions of our government that we do not normally see first-hand. And while they are sometimes covered by the news media, they are certainly not all covered by the news, and when they are, it sometimes feels too literal. Statistics do not build empathy, but a felt, embodied, or shared experience does."
Mosher's work has been exhibited world-wide, as far as India, China and the Netherlands. He is now an Artist-in-Action for the Art and History (A&H) Museums located in Maitland, working in the rich environment of the A&H's Maitland Art Center, the only national historic landmark in Central Florida's four counties.
Just minutes from Downtown Orlando, the five museums that comprise the Art & History Museums – Maitland allow visitors to experience hands-on history and fine art exhibitions.
Art and History Museums – Maitland offers an Artist-in-Action program that reflects the spirit of founder André Smith's Research Studio and the current mission of the institution, which is to foster an appreciation for art and history through immersive experiences.
The program provides non-residential studio space to established or emerging Central Florida artists for the professional practice and research of fine art. Through this program, Mosher is continuing to work on fascinating pieces, meshing and merging technology with art in Lake Lily studios.
"I am currently working on some extensions of the Sentinels series while a resident at Art and History Museums – Maitland," Mosher said. "I received a grant from the Puffin Foundation to take some of the gun violence data visualization mandalas I was making in 2017 and remake them in cast bronze.  So, for the next two months I'll be doing a lot of wax casting."
To check out more of Mosher's work, visit his website.
Published December 1, 2019. Written by Iulia Popescu.
If you have any news, accomplishments or highlights about your work or life, please be sure to share them with us, by emailing us at nicholsonews@ucf.edu.