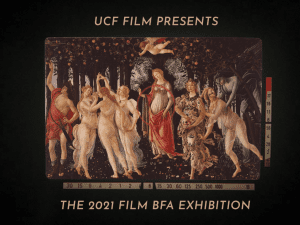 The theme of this year's Film BFA Senior Showcase was Modern Renaissance, essentially referring to the rebirth in filmmaking that has taken place over the past year due to the global pandemic.
The showcase, which featured students' short films and documentaries, was held entirely online on YouTube Live in May.
The gallery features comical films such as the three-minute short "Florida Man," which was directed and written by student Alejandro Ramos. In "Florida Man," main characters Ty and Garrison are two criminals who just pulled off what they thought to be the greatest heist, but they forgot one small, yet critical, detail.
The gallery also features haunting tales such as the nine-minute short "The Songs of Lazarus," directed by student Anthony Greenstone, which is about a widowed Christian woman participates in an experiment at her home in which the participant must listen to a set of binaural beats that will allow them to experience the afterlife.
"I love the surreal, dreams, nightmares [and] the supernatural within horror filmmaking," said Greenstone, in his artist statement. "I take a lot of influence from several directors such as Lynch, Fincher, Kubrick, Von Trier [and] Gaspar Noe."
The 2-minute short "Candle," is another evocative tale, directed by Hovannes Jarkezian, that asks if fire really helped the evolution of human beings or if it has helped the destruction of them.
There are short documentaries such as "Paint From Life," "Teaching in a Pandemic" and "An Artists Utopia" as well as queer films like "The Sanctity of Love," directed by Alí Meyer, which is a reclamation and celebration of queerness in a traditionally academic artistic style that has been denied through history to openly queer individuals.
"I have found video art as the ultimate way to create what I would not be able to create through painting or sculpture; to me video art has become a means of invention," said Meyer in their artist statement. "My work focuses on topics and themes that in my day-to-day life I find difficult to explain, such as expression, alienation and personal identity. While these themes have influenced my work, my work has ultimately helped shape my perspective of self and how I approach these ideas in my day-to-day life."
In total, there were 30 students who showcased their films. All of the students that participated can be found on the website's student gallery and all of their shorts are listed here.
These films and more can still be viewed. Click here to watch day one and day two of the showcase.
Published July 1, 2021. Written by Iulia Popescu.
If you have any news, accomplishments or highlights about your work or life, please be sure to share them with us, by emailing us at nicholsonews@ucf.edu.