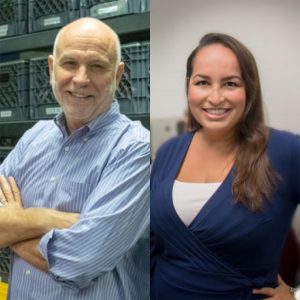 In the Nicholson School, Erica Kight, Ph.D., and Philip Peters have received a Teaching Incentive Program (TIP) award in recognition of their outstanding contributions in teaching and learning.
TIP awards recognize teaching productivity and excellence. They reward employee contributions to the university's key goals of offering the best undergraduate education available in Florida and achieving international prominence in key programs of graduate study.
"The selection of Dr. Erica Kight and Philip Peters as TIP Award recipients for 2020 was not a surprise to me," said Director Robert S. Littlefield, Ph.D. "Whenever they talk about their classes and their students, their eyes light up and you can feel the energy that emanates from them. They are exemplars of effective teaching and role models for their colleagues. We are really fortunate to have them – and so many others like them – as members of the NSCM faculty."
Kight is a lecturer in journalism, radio-television and Hispanic media at the University of Central Florida. As part of the UCF Nicholson School of Communication & Media faculty, she co-directs the school's Hispanic Media Initiative and teaches courses on news reporting, electronic journalism, TV news and diversity in U.S. media.
Co-editor and chapter author of undergraduate textbook LatinX Voices: Hispanics in Media in the U.S., Kight has presented her academic work at various international conferences, including the Hispanic Association for Colleges and Universities, Cuba TIES, and Partners of the Americas Higher Education Partnerships. Her work has also earned grants from the Nielsen Foundation, as well as the Partners of the Americas 100,000 Strong in the Americas Marlene M. Johnson Innovation Fund. Most recently, the UCF Latino Faculty and Staff Association honored Kight for her dedication to serving UCF's diverse community with an Intentionality Award.
"I was surprised and humbled to hear that I earned a TIP award this year," Kight said. "I appreciate the opportunity to work alongside some of the most talented and hardworking faculty in our field. During my time at UCF, I have learned so much from my peers and credit this accomplishment to them. They inspire me and challenge me to innovate and improve my work in the classroom. For that, I am grateful. On a personal level, it was especially rewarding to receive the news while on maternity leave as this was all part of a full circle moment for me."
Peters, professor and program coordinator of film, came to UCF in September of 2002 as a member of the UCF Dynamic Media Initiative. In 2003, he was asked to be the chairman of the Department of Film when UCF formed the new School of Film and Digital Media under Director Sterling Van Wagenen. He is originally from Seattle where he was a film production designer and computer game producer/designer for over twenty years. His designs include the Emmy winning series "Northern Exposure" and numerous other film and television projects in both the United States and Australia.
"I felt very honored as there is a tremendous amount of talented faculty," Peters expressed.
Peters was also a recipient of a Research Incentive Award (RIA). The RIA program supports outstanding research, scholarly and creative activity that advances the body of knowledge in a particular field, including interdisciplinary research and collaborations. Peters' research was on the topic of film production methods in India.
We thank their unwavering commitment to students, and to enhancing the quality of education for them so they can succeed in the classroom and beyond. Best wishes for continued success!
Published June 1, 2020. Written by Iulia Popescu.
If you have any news, accomplishments or highlights about your work or life, please be sure to share them with us, by emailing us at nicholsonews@ucf.edu.