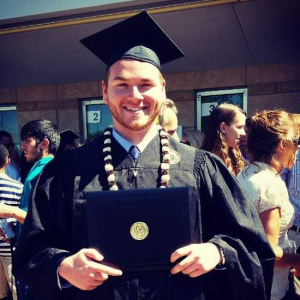 Before graduating in 2015, Jacob Edelman aspired to be a radio/television professional. Now employed by the powerhouse that is ESPN, his passion of sports and working in television have been combined to create his dream job.
"I grew up watching ESPN … and I just wanted to be part of the World Wide Leader in Sports," Edelman said. "Sports and television mean a lot to me and I wanted to work in a career that was involved in both!"
Edelman credits most of his practical knowledge to Knightly News and internships facilitated through the Nicholson School.
"UCF prepared me in a bunch of ways to be ready for a career in this field," Edelman said. "Working in multiple positions for Knightly News gave me the experience I needed to get my first couple jobs in local news."
Edelman started off as an audio operator at WPBF 25 in West Palm Beach but soon accepted a job with ESPN. He moved to Bristol, Connecticut to join ESPN and has now been working there for about two years. He advises Knights to charge on despite any setbacks.
"To students in college, even if you get rejected, it doesn't mean stop trying, it just means get more experience and try again," Edelman said.
Published May 1, 2020. Written by Iulia Popescu.
If you have any news, accomplishments or highlights about your work or life, please be sure to share them with us, by emailing us at nicholsonews@ucf.edu.