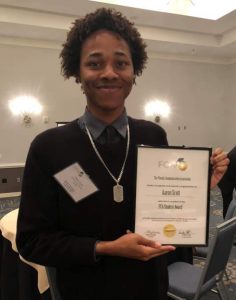 Several accolades were passed out throughout the week of the Florida Communication Association's (FCA) 89th Convention, which occurred last fall.
Nicholson M.A. student Aaron Scott was the recipient of the Student Scholarship Award, a tremendous feat to add to his already long list of accomplishments.
Scott is a hard-working student, who graduated in 2017 with a bachelor's degree in advertising and public relations, and who then immediately went on to enroll in the graduate communication program. He first heard about FCA through some of his classmates who were presenting at the 2018 conference.
"They encouraged me to submit a project that was eventually accepted and presented as a part of a panel at the conference," Scott said. "That was my first ever conference presentation experience. Since then, I have had a presentation at a national conference and awarded at an international conference. I would say those achievements are largely attributed to my initial experience at FCA."
Members of FCA are given access to readings such as the Florida Communication Journal, which provides cutting-edge research articles, and the FCA newsletter, which keeps members current on events and information in between conventions.
The annual conventions are what members look forward to the most though. This highly-anticipated event is where each year FCA members gather to expand their knowledge on the field of communication. Several presentations occur during the convention, which Scott has been able to both attend and provide.
"FCA is a good conference to submit to because they have wonderful people overseeing it," Scott said. "It's a great place to meet and interact with ambitious scholars who want to make a difference."
The Student Scholarship Award that Scott received recognizes outstanding performance and scholarly activities by student members of the FCA. Recipients earn a $250 cash award to be used toward current or future educational pursuits.
Interested individuals may nominate other members or individuals may nominate themselves.
Scott has previously won the Top Poster Award for the International Crisis and Risk Communication conference in 2019 as well.
Among some of the titles that he has held at UCF include Graduate Teaching Associate, Graduate Research Assistant, Undergraduate Peer Mentor, Volunteer Chair for the Graduate Student Association, and Student Government Association Senator for the 51st and 52nd Senate Session. As a senator, he also held membership in the Student Body Advocacy and the Elections and Appointments committees.
"Beyond that, I have published an online article with the InstituteForPR," Scott said. "Lastly, I have functioned as an ambassador for the Communication program at the UCF Graduate Fair, a judge for the UCF Celebrates the Arts Poster Symposium and a supervisor for a UCF Health Communication Poster Session."
FCA membership is open to faculty and students at the high school, college and university levels, and to anyone who is interested in becoming part of a vibrant and embracing community united by great scholarship.
The membership year begins on October 1 and ends on September 30. Current membership dues are $50.00 for Regular Members, $25.00 for Student Members, and $100.00 for Patron Members.
Please email all membership-related questions to treasurer@floridacom.org.
Published February 1, 2020. Written by Iulia Popescu.