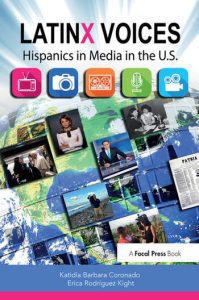 The National Association of Hispanic Journalists (NAHJ) and the National Association of Black Journalists (NABJ) recognized LatinX Voices: Hispanics in Media in the U.S, a textbook edited by Katie Coronado, Associate Instructor and Assistant Director of Communication and Outreach at UCF's Nicholson School of Communication and Media and Dr. Erica Rodriguez-Kight. Rodriguez-Kight and Coronado received the award during the NAHJ/ NABJ national conference.
By Majdulina Hamed.
Published to Nicholson News on September 2nd, 2022.
If you have any news, accomplishments or highlights about your work or life, please be sure to share them with us, by emailing us at NicholsonNews@ucf.edu.