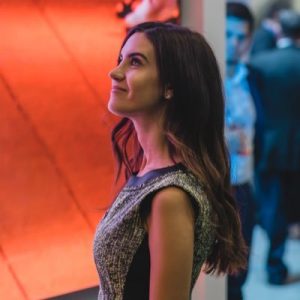 When students graduate from the University of Central Florida, they spread all over the nation. Nicholson School of Communication and Media journalism alumna Natalie Zfat '06 moved to New York when she landed her dream job as an editorial writer for Rolling Stone magazine months after graduating. Zfat is now a social media consultant and expert. Zfat returned to UCF to share her secrets to success during the evening of Oct. 9.
"Working for Rolling Stone gave me the chance to interview my idols," Zfat said. "I talked to Mick Jagger, Bono and Aretha Franklin. I had a great time there."
After working for two years in Rolling Stone, Zfat was let go. She took the time to focus on herself. From there, Zfat began her journey to self-identity and branding, which guided her to create a following on social media. Zfat began writing for brands, partnering with companies, and she started to recognize the growing demand for digital.
"There were brands that started coming to me when I was laid off at the magazine," Zfat said. "They asked me to interview bands and do guest blog posts for their pages."
Zfat has worked for Forbes, Ad Age and Refinery29 and has partnered with brands like Samsung, American Express, Levi's, NFL, Microsoft and Marriott International. Zfat never imagined social media as her career but now she's an expert in the field.
"Earning a living writing for your own social channels was virtually unheard of in 2006," Zfat said. "Becoming a social media entrepreneur was certainly not the plan when I graduated from UCF 12 years ago."
In 2010, Zfat started her social media consulting company — Natalie Zfat Inc. Her company focuses on building relationships and doing good work, which means taking risks, having confidence and over delivering.
NSCM associate instructor Rick Brunson, M.A., Zfat's former journalism mentor, has followed Zfat's growth and feels tremendously proud.
"Natalie caught the tsunami wave that social media has become at the beginning and has ridden it to success – and done so with style and verve," Brunson said. "She's a highly sought-after entrepreneur and public speaker. I'm wildly excited about what's she done with them. I'm her biggest fan – probably next to her parents."
Zfat held a discussion with Brunson on leveraging social media and creating a personal brand to embrace an entrepreneurial spirit.
"I do think that having a journalism education like the one I earned at UCF – teaching me skills like judgment and copy-editing and fact-checking – is what made it possible for me to develop a unique and trusted voice that millions of people choose to follow," Zfat said. "And that same journalistic skillset would make anyone stand out – regardless of what industry they end up working in."
The alumna reminisced over her time at UCF and believes others can achieve opportunities equally as big as the ones she reached.
"It's a great reminder to anyone – student or otherwise – to be malleable," Zfat said, "and prepare to pivot when opportunities present themselves – the way social media did for me 10 years ago.