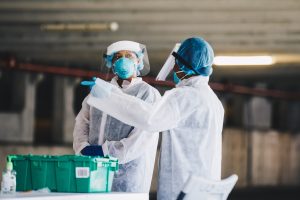 Recent research from a 16-member group, including Nicholson School of Communication and Media's Lindsay Neuberger, Ph.D., shows public perception of the odds of contracting COVID-19 at 28% and the risk of dying from it if contracted at 22% — a much higher number than the reality.
That's one of the major takeaways from a new six-state survey examining the beliefs and general understandings around the global pandemic.
The poll of 3,059 people comes from the Risk and Social Policy Working Group, an academic task force assembled to identify gaps in public policy and messaging misfires.
"Our goal is to empower policymakers and voters to make informed decisions with the data we are collecting and analyzing, as well as translating this information into diverse, practical applications," said Neuberger.
The "Wave One" survey was concluded June 7. It asked residents of Massachusetts, Colorado, Michigan, Washington, Louisiana and Iowa a variety of questions about their experiences, risk perceptions and attitudes during the pandemic and quarantine. Some of the topics covered risk reduction behaviors like wearing masks and social distancing; where they consumed information; and their opinion on the government's performance.
Some of the results include:
Respondents said they believe they have a 28% chance of getting COVID-19; a 34% chance of getting seriously ill if they get it; and a 22% chance of death if they contract COVID-19. The actual odds vary substantially, but a study in June from UCLA and Stanford put the risk of contracting COVID-19 at about 1 in 4,000.
Questions about using face masks were broken down by location: 66% of respondents said they always wore coverings in indoor public spaces; 20% said sometimes; and 14% said never. In crowded outdoor spaces, those numbers dropped to 42% always wearing a face covering and 39% said never.
Polling also dived into examined public perception of stay-at-home orders and closures of businesses and schools, both on the state and federal level. About half (48%) indicated policies should remain the same in their state, while 31% said policies should be more strict. A majority disapproved (14%) or strongly disapproved (37%) of President Donald Trump's response to the pandemic, while 16% strongly approved and 15% approved. Public approval of scientists handling of COVID-19 was high with 66% of participants indicating they strongly approved or approved.
A majority of respondents said their mental and physical health stayed about the same during the pandemic, at 69% and 80% respectively, but 25% of participants indicated their mental health had decreased during that time.
The Risk and Social Policy group represents multiple disciplines including political science, disaster response, risk communication, psychology and public health. Leading the group is Rob DeLeo, Ph.D., of Bentley University, who brings expertise in public policy. Their work is funded by the National Science Foundation and the University of Colorado, Boulder's Natural Hazards Center.
At least two more waves of the surveys are planned for August and October to provide a more comprehensive, long-term picture of perceptions over time.
"My role in the group is to make the project more responsive and to emphasize that very important communication aspect," said Neuberger. "We want to be able to interpret the information we are gathering and to present it to people, whether that be politicians, policy makers, or the general public, in a way that makes sense."
Neuberger is an associate professor in the Department of Communication. Neuberger is also the Faculty Fellow for University General Education Assessment in the College of Undergraduate Studies and previously served as associate director for academic programs and student services in Nicholson.
Neuberger primarily conducts research in the areas of health campaigns, translational research, and risk communication and has been funded by organizations including the National Space Biomedical Research Institute and the World Health Organization. Her work focuses on persuasion, formative research, information seeking, evaluation, and linguistic analysis and has covered diverse topics from the opioid crisis and breast cancer to risk assessment and environmental concerns.
Originally written by Kyle Martin.
Published August 3, 2020 on Nicholson News by Iulia Popescu.
If you have any news, accomplishments or highlights about your work or life, please be sure to share them with us, by emailing us at nicholsonews@ucf.edu.