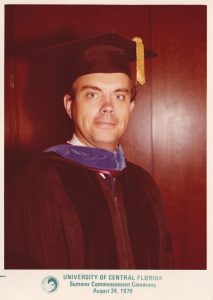 The Nicholson School of Communication and Media (NSCM) is offering a new fellowship in honor of the late, retired Professor Emeritus Kyle "Phil" Taylor, Ph.D.
The Dr. K. Phillip Taylor Fellowship will be awarded to a deserving full-time graduate student this academic year.
Taylor was an officer, Navy veteran and scholar. He met his wife of 53 years, Beverly Taylor, while serving in Key West, Florida in the 1960s. Taylor became a retired professor emeritus from UCF in 2005, following a distinguished career of more than 35 years.
"He felt honored to be chosen to teach at UCF and really blossomed there," said Beverly Taylor.
While he was a professor of communication for the Department of Communication at that time, then the Nicholson School of Communication, he taught a broad spectrum of topics such as organizational communication, small group dynamics, educational research, intercultural communication and public speaking.
He made a huge impact on the school, even reading the names of graduates at the Arts and Sciences graduation ceremonies for about 20 years.
He won a Florida Communication Association Outstanding Service Award in 1991 as well as in 2004. He also received a UCF College of Art and Sciences Excellence in Teaching Award in 1994 and was bestowed an American Professor Partnership for Lithuanian Education (A.P.P.L.E.) Lifetime member award in 2004 – among numerous other achievements.
In 1992, he went to Lithuania every summer for the next 15 years as part of a program which conducted seminars for Lithuanian teachers and administrators, designed to update their professional skills by sharing instruction methods from the U.S. and Canada.
"He went to Lithuania to share his knowledge," said Beverly Taylor. "He found out about the program from one of his female colleagues. After participating her first year, she came back with fire in her eyes. And Phil said 'I want my eyes to look like your eyes! I want to be excited like that.' So, he went, and they asked him to give a keynote address. He was even presented an award that the minister of education of the country sent to Phil."
Along the way, Taylor developed many close relationships with his students and fellow faculty members and is dearly missed by many. The donor, Thomas Buhr, Ph.D., was a former student of his.
"I knew him very well," said Buhr. "He was a wonderful professor and in time he became a very good friend. He deserves to be remembered for all time for what he did up until he retired."
Taylor's dedication to education was remarkable, and now, with the development of this new fellowship in his honor, his memory will live on as he continues inspiring others in their studies.
Published October 1, 2021. Written by Iulia Popescu.
If you have any news, accomplishments or highlights about your work or life, please be sure to share them with us, by emailing us at nicholsonews@ucf.edu.