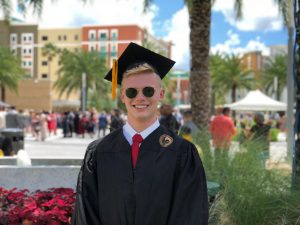 Only 12-14 journalism fellowships are granted by Hearst each year. Nicholson School alumnus Michael Williams 18' just became a recipient this past summer.
Hearst has grown from a single newspaper into one of the world's most admired private media and information companies. Their fellowship is the premier two-year newspaper fellowship in the country.
Williams, a former breaking news reporter at the Orlando Sentinel, relocated to Albany, New York, to participate in the prestigious Hearst fellowship. He will work for one year as a reporter at the Albany Times Union.
After that, he will rotate for his final fellowship year to either the San Francisco Chronicle, the Houston Chronicle or the San Antonio Express News. Fellows may also be placed at a paper in the Hearst Connecticut Media Group, which operates eight daily newspapers across the state.
"I'm excited to get to know a new city and tell some of the stories of the people who live here," Williams said. His first day was August 19.
The highly selective Hearst Journalism Fellowship is aimed at the professional development of promising early-career print or digital journalists who exhibit the commitment to – and potential for – a long-term journalism career.
"Though I loved covering crime and the court system during my two-and-a-half years at the Orlando Sentinel, I wanted to diversify my journalistic skill set by exploring different beats – and, as someone who's lived in Florida his whole life – different places," Williams stated. "I thought the Hearst Journalism Fellowship Program was the perfect opportunity to spread my wings. During this fellowship, I hope to explore different topics and learn to write compelling stories no matter the subject."
Williams is appreciative of everyone at UCF who had a hand in his development and success, as well as others who have shaped his life for the better.
"There are several people for whom I am grateful for supporting and mentoring me since I first moved to Orlando four years ago," he said. "Without Rick Brunson, I'm not sure what my journalism career would look like, but I don't think I would be where I am currently. Taking Professor Brunson's principles of journalism class the first semester of my freshman year cemented the realization that I want to be a journalist for the rest of my life. I'm also very thankful for Lisa Cianci, the Orlando Sentinel's news content director who took a chance by giving me a full-time reporting job when I was still months away from graduating, as well as Janet Reddick and Jeff Weiner, my first two editors at the Sentinel. There's also the countless coworkers I had at the Sentinel who made my time in Orlando unforgettable."
This article was written by Iulia Popescu.