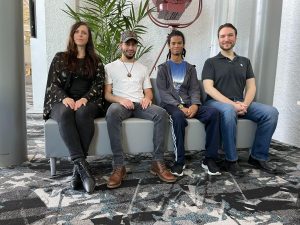 Taking a leap of faith and creating a new organization is no small feat. Students in FIEA have recently founded a new registered student organization (RSO) in Fall of 2022 called Advocates for Interactive Media (AIM). Led by FIEA students and officers Jamie LaRose (President), Brandon Brennen (Vice President), Delwyn Tejada (Secretary), and Nick Nyaiesh (Treasurer), their goals for the organization includes creating more opportunities for future FIEA students to get involved, network and community outreach. Their plans of becoming an established student organization came to fruition when a grant of $32,550.00 was granted to AIM in January of this year to assist more than 30 members with expenses associated with the Game Developers Conference (GDC) in San Francisco, California. AIM also continues to work hard to develop their organization and plans to create more opportunities for future FIEA students.
By Majdulina Hamed.
Published to Nicholson News on March 2nd, 2023.
If you have any news, accomplishments or highlights about your work or life, please be sure to share them with us, by emailing us at NicholsonNews@ucf.edu.