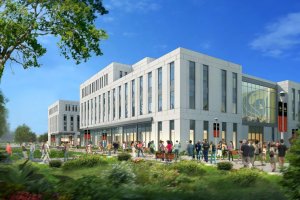 The university's communication program has been through changes since it started in 1967 and this might be the biggest one yet. By combining communication, film and mass media, games and interactive media, as well as the Florida Interactive Entertainment Academy. The new school is going to be a force to be reckoned with when it comes to the many forms of communication and media.
The programs offered by the school are advertising/public relations, journalism, communication, radio-television, digital media, communication and conflict, film, digital cinema and interactive entertainment.
The Nicholson School of Communication officially became the Nicholson School of Communication and Media (NSCM) on July 2. NSCM has disciplines in both the College of Sciences and the College of Arts and Humanities, making it an interdisciplinary inter-college school.
"I am excited about how Nicholson School of Communication and Media is coming together," said Dr. Robert Littlefield, who was named founding director of the new school. "We have great faculty, dedicated staff and a lot of students seeking degrees in our academic programs."
UCF's new president, Dale Whittaker, is excited about the new school and its offerings.
"The new school is part of an academic reorganization launched last year to position UCF as a leader in creating and communicating content across multiple and emerging platforms," Whittaker said. "The changes will provide new opportunities for interdisciplinary learning and research and best prepare students for the world after graduation."
"Observers are watching for innovative and creative things to come from this blending of people and I can assure you that we plan to deliver what is expected and more," Littlefield said.
The changes to NSCM are just beginning, many are more to come, starting with a big move to UCF Downtown.
Littlefield and many others in the school and across the university are also working hard to prepare the school for its big move scheduled to begin in the fall of 2019, when NSCM's departments of communication and games and interactive media will join the Florida Interactive Entertainment Academy at UCF's Downtown Campus. UCF Downtown partnered with Valencia College to bring students a new opportunity to live, learn and work in downtown Orlando. This initiative will increase access for students to collaborate with companies or other work prospects, located in downtown, to provide pathways into high-demand career fields.